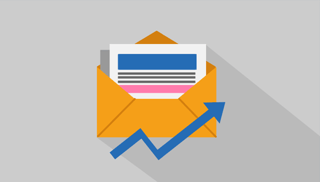 To successfully close a higher volume of sales at a more efficient rate, sales and marketing teams must be aligned. But in order for sales to be able to close the relevant deals it is important that they are empowered with the right marketing data and content to support their efforts.
Typically, the development, management and creation of content falls under the responsibilities of marketing. But its crucial role in sales enablement means that now more than ever, that your content strategy must be something your sales teams are actively aware of.
When empowered with an effective content strategy, your sales team will be able to leverage content to learn key insights into the prospects they are engaging with; while engagement data can be analysed to inform targeting and approach strategies.
Consider these four points to ensure your sales and marketing teams are on the same page in terms of how your content strategy can drive sales enablement.
Organising your content
The first step in a Sales Enablement content strategy is to perform a full content audit. This includes a complete review of all content – readily available or not. The obvious place to start is your website, most organisations today will have high-quality pieces available to download from their website. Secondly it's worthwhile to check in with Marketing, to understand what content pieces are in the works or may even be finished but not yet live on the website. Lastly, it's important to reach out to the individual members of your sales team, each will have a go-to stash of content pieces which they regularly use to send out to the prospects they engage with. Be aware that at this stage a content piece doesn't have to be an attractive looking PDF, but could just be a list of points which are copied and pasted into an email.
Once you have a list of all content, the task is to analyse its usage and performance, identify the ones which need work, replace the out-dated ones, and then close the gaps in currently missing information. Now your fully comprehensive library of content should be saved centrally so that everyone in your team can find and access the resources they need to sell better when they need them.
Creating new content
Consider those unformatted word documents saved onto the desktops of the high performing members of your sales team. They may not be the most attractive but the reason they are being used again and again is that they work. Your sales teams are on the front lines, answering questions and uncovering the latest challenges and talking points. They know first-hand the types of information your prospects need, and to overlook these insights will ultimately hinder the overall productivity of your sales team.
How Marketing can support Sales with content creation
In order to engage with all potential prospects, your sales team needs to be equipped with content which aligns with each stage of the buyer's journey. Without buyer mapped content your sales team will lack the resources necessary to hold effective conversations or progress leads.
Marketing can support sales in content creation by actively collaborating to better understand the challenges and questions that must be answered at each stage of the funnel. Using your content audit, you will be able to identify where the gaps in the journey currently lie.
Also consider:

Case studies from existing customers and relatable examples of your products and services in action are great for allowing your prospects to connect with the brand story you are telling.
Processes should be put in place to allow both your sales and marketing teams to collaborate on new content pieces and identify the best customers to use for case study examples; ensuring that your content is fully optimised for Sales Enablement.
Effectively using your content
The only thing more important than having quality content available is ensuring that your sales and marketing teams both know how best to use it.
Content is the currency upon which an inbound campaign is based and it should become standard practice that all your high-value content pieces are available to download from your website. However, these pieces should be gated; meaning that you are continually able to provide your sales team with warm and engaged leads as they move across your site exchanging their contact details for the quality content pieces you have available.
By effectively using the content you have available on your website, you should be able to increase the number of MQLs (marketing qualified leads) being generated by marketing. These highly qualified and organically generated leads should then feed directly into your sales funnel, providing a steady stream of new prospects for your sales teams to engage with.
Your content should be able to attract the attention of your prospects but also be available to your sales teams for them to use at their discretion, to progress prospects they are already in discussions with.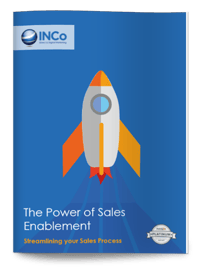 Make sure you harness the power of sales enablement by downloading our eBook and get our complete insight into streamlining your sales processes for more effective sales at a higher volume.