Revenue operations (RevOps) can deliver a programmatic framework for companies looking to break through a revenue plateau or indeed continue on a growth curve. Companies with aligned revenue support grew 19% faster and were 15% more profitable.
The biggest challenges companies face in implementing Revenue Operations, is having the right tech stack to power it.
How does CRM software support RevOps?
To get a true insight into success with key revenue metrics for your business (ARR, CLV, CTR etc), you need the right technology to both drive and track performance.
Now, you may have some tools already that track these metrics, like Marketo, or Salesforce. These systems are great at what they do best, but on their own they don't deliver that essential holistic view of how sales, marketing and customer service combine to drive revenue. And if your other tools don't talk to these systems, then you're only getting half the story.
Of course, if you're a large business with the bandwidth to oversee numerous disparate tools with endless tech consultants needed at every hurdle, then great! But if you're a £20 - £100m turnover business, you probably don't want to turn to a Salesforce architect or an Adobe Experience Manager every time you need to get reports, analytics and insight or customer information from your system.
You can of course build a RevOps strategy with disparate systems, but even just simple lead scoring would prove complicated. And we strongly believe your sales and marketing handover processes should come without the friction – your lead to deal time needs to be slick, which is possible when you have one tool that oversees all your sales, marketing and customer service activities. With everything sat in a separate system, your business becomes vulnerable to SaaS subscription creep, with very little insight on combined ROI.
Maintaining and paying for siloed systems and moving data from one system to another is likely to cause a massive overhead in time, and you likely lose some valuable insights as a result, like exactly which tools and teams are driving more revenue for your business. With everything in one place, you get a full overview with detailed revenue reports that can measure the effectiveness of all your connected systems.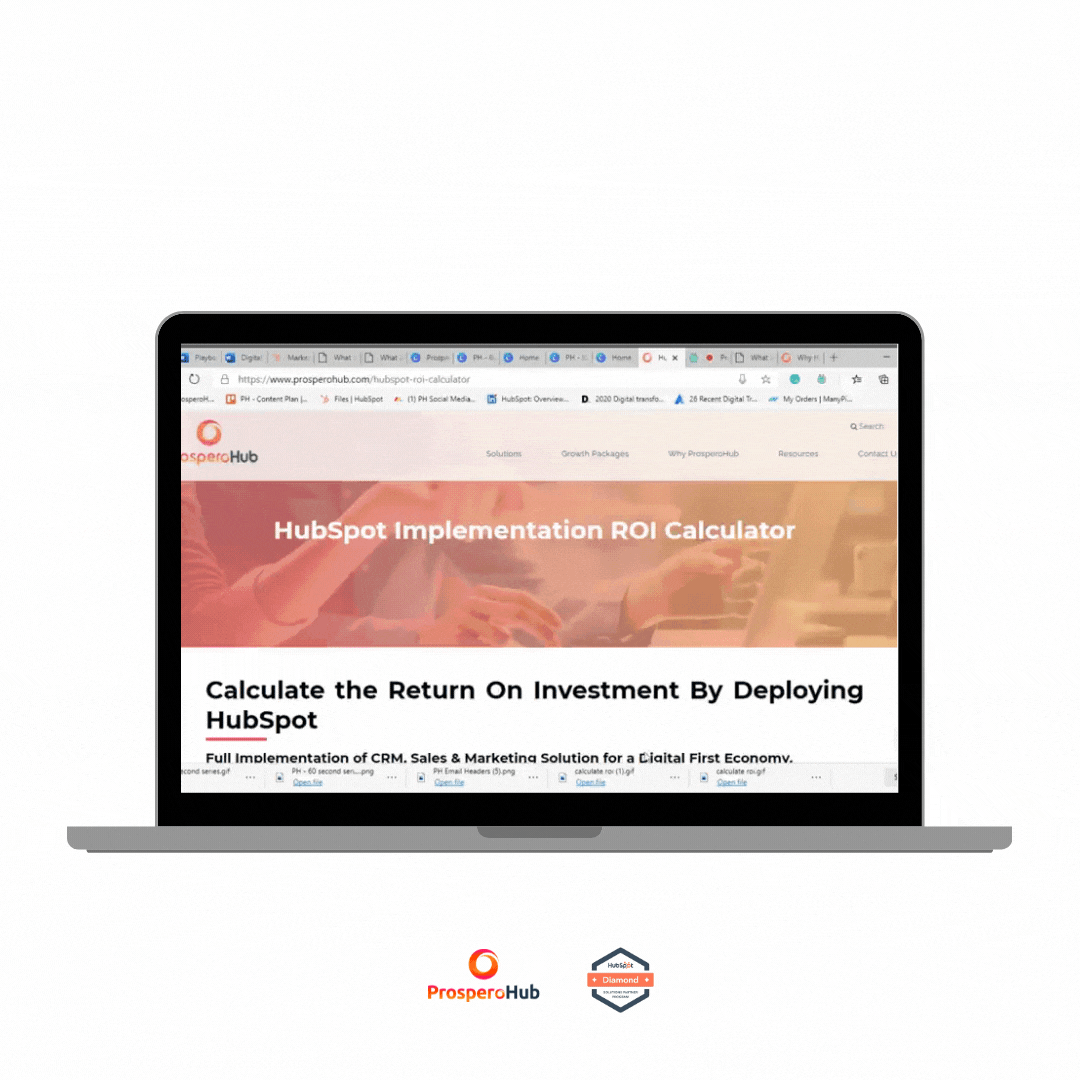 If you are concerned about SaaS subscription creep or are wondering how much value your siloed systems are contributing to your business's revenue, use our HubSpot ROI calculator to identify the potential ROI and net financial gain that a HubSpot solution could deliver to your business.
What custom set tools does an organisation need to support RevOps?
Here's a breakdown of the tech required to push your RevOps strategy, all of which HubSpot can deliver in one place:
CRM Platform – Data management/Segmenting customers/Prospects/Lead Scoring/Collaboration capability/ABM & Target Account Management

CRM Reporting & analytics – Build insight and data models/Dashboards and alerts

CRM – Sales collaboration, Coaching and Forecasting

Social media tools

SEO tools

Website and Landing Page management tools

Blogging platform

Digital Tracking

E-marketing with Marketing Automation

Smart Content management to match prospects buying journey

Customer Survey tools

Net Promoter Score tools

Sales Enablement Platforms (email sequences/meeting links/document tracking prospect tracking)

Project management tools - Help marketing and sales deliver an aligned campaign strategy

Proposal and Quote tools

Executive Reporting platform

Chatbot tools

Customer Onboarding tools

Customer Success and ongoing service tools

360-degree view of the customer

And so much more...
HubSpot delivers all of the above in one place, making it easy to manage, report and execute on. You can of course get all of the above through siloed tools - here's a breakdown of the average costs you might be looking at to do it. Some of these tools may have bells & whistles that HubSpot does not offer, however this collection certainly cannot fully recreate the individual features of HubSpot or the all-in-one experience.
Can I find a system that does it all?
HubSpot delivers all of the above. In fact, many business owners have already turned to HubSpot to manage their RevOps strategy. With the addition of the newest hub, Operations, you can also use your favourite marketing software to manage your workflows and processes.
The HubSpot Operations Hub is your command central for all your business's processes and operations. When everyone has a 360 view, you eliminate excess data entry and tracking, and assumptions being made based on incorrect information. Additionally, when all your teams can see where they fit into the big picture, they will better understand how they can affect the bottom line.
For too long, many people have assumed that revenue should come strictly from sales. But other departments are more than capable of contributing, particularly when supported with the right technology. HubSpot Operations is the tool that will manage all your other tools in your tech stack, expertly bringing everyone together with one uniting path forward with a clear RevOps strategy.
Planning your RevOps strategy in HubSpot? We can help.
ProsperoHub is a leading HubSpot agency based in the UK, supporting SMEs to implement a successful RevOps strategy via HubSpot.
Click below to book a consultation with our CEO, Neil Ritchie, today.