Inbound marketing... Chances are you've heard this term before, but do you know exactly what inbound marketing is and how can it help to grow your business?
What is Inbound Marketing?
It is one of the most popular digital marketing approaches that concentre on buyer needs. As defined by HubSpot, inbound marketing is a business methodology that attracts customers by creating valuable content and experiences tailored specifically to them. It is all about building meaningful relationships with your prospects and existing customers.
Creating valuable content and user friendly website experiences tailored to your audience can attract people to your business. While outbound marketing interrupts your audience with content they do not want or relate to, inbound marketing creates a bond with your customers and prospects presenting them with solutions to problems they already have.
How do I Measure Success in Inbound?
You now understand what inbound marketing is and the value it can bring to your business, but how do you know if your inbound marketing strategy (if you have one) is working? Return on Investment (ROI)! You need to be able to review and monitor all your marketing and sales activities to establish what's working and what's not. Marketers who measure inbound ROI are 17 times more likely to see the same, or greater ROI, over the previous year. Yet only 53% of marketers are actually measuring ROI, why?
Inbound marketing is all about measurable marketing results, you need hard facts and statistics to show the impact of your inbound marketing efforts. We've put together some top tips for measuring the results of your inbound marketing approach to help determine success and achieve your business goals:
1. Set SMART Goals
Before you get overexcited with your inbound plan and dive straight into writing content, set yourself some realistic goals before you begin. What do you want to achieve from your inbound marketing strategy? Do you want to increase your website traffic? Increase your website form conversion rates? Do you want more views on your blog posts every month?
Regardless of what you want to achieve, your goals need to be SMART. a SMART goal needs to be one of 5 things: Specific, Measurable, Attainable, Reliable, and Timely. By following this framework, everyone in your organisation will know what the objectives for the campaign are, and what steps are needed to get there.
2. Take advantage of HubSpot's Inbound Metrics & Analytics
One fantastic feature within HubSpot's sales and marketing platform is the reporting and analytics that allow you to measure the performance of your entire marketing and sales activity in one place. Taking advantage of built-in analytics, reports, and HubSpot dashboards showing the results of all your marketing efforts, allows you to be a smarter, data-driven marketer, able to prove your ROI to stakeholders at any point.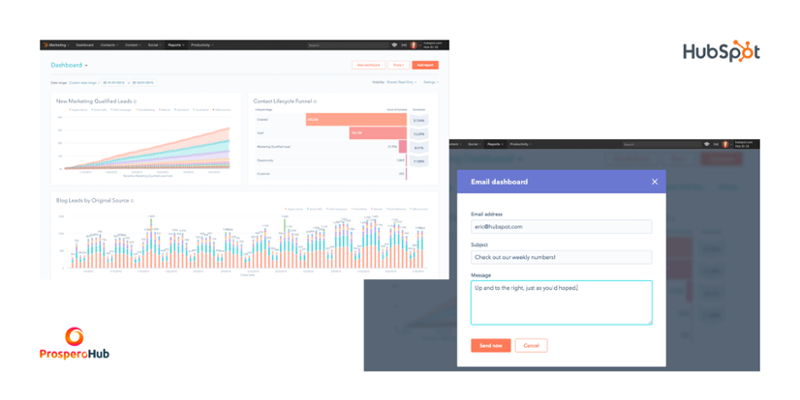 Since inbound marketing is delivered online, these analytics will tell you almost everything you would want or need to know about your website visitors, prospects, and customers. Some examples of key analytics you should be measuring when determining the success of your strategy and activity includes the number of new leads you are generating each week/month, how they are engaging with your business (via your website, social media, emails etc), the number of opportunities created, and ultimately, the new customers you have converted - metrics like these will help to determine how successful your inbound marketing strategy has been.
3. Be Patient
Success doesn't happen overnight, don't forget that. It's far too easy to feel underwhelmed when the results you want aren't there straight away. An inbound marketing strategy is not a single promotion, it's a long-term strategy - not made to produce instant results.
With inbound leads costing 61% less on average than outbound leads, be patient and we are sure it will be worth the wait.
Are You Ready To Transform Your Inbound Marketing Strategy?
Wondering what benefits would HubSpot solution deliver to your business? You can now calculate your ROI on HubSpot using our online calculator.
Have any questions? Schedule a call with one of our ProsperoHub experts to learn how inbound marketing strategy can help you attract the right audience and transform revenue in 2021.