An Elite HubSpot
CRM Solutions Partner
As an Elite HubSpot Partner, we have helped over 200 organisations deploy the HubSpot CRM, Sales and Marketing platform to the highest standards possible for our customers.
We have a dedicated team of HubSpot onboarding, strategy, marketing, and sales experts to make your HubSpot CRM software implementation a success and to work with you to bring your goals to fruition. We know HubSpot inside and out and are experts in creating and implementing the most effective strategies and campaigns for your business, utilising HubSpot's vast array of marketing and sales tools and features to ensure you get the best possible results for your CRM investment.
One of the most common reasons CRM software implementations fail is businesses moving forward without the help of an experienced CRM, sales and marketing solutions expert, missing out on key expertise and guidance for onboarding and training. This includes the ability to translate your business challenges and growth aspirations into a best fit solution and strategy for your business, and ensuring successful staff adoption of the software.
At ProsperoHub, our specialists are on-hand to set you up on HubSpot with a thorough service, including onboarding and training in everything you need to know to use the platform to its full capacity. We also have a committed and experienced team to create detailed and sales-orientated strategies to help you reach your short and long-term goals.
We are here to pass our expertise onto you, setting you up for success and helping you to navigate any challenges that arise and avoid common pitfalls. Our aim is to fully equip you to maximise your potential and your return on investment (ROI).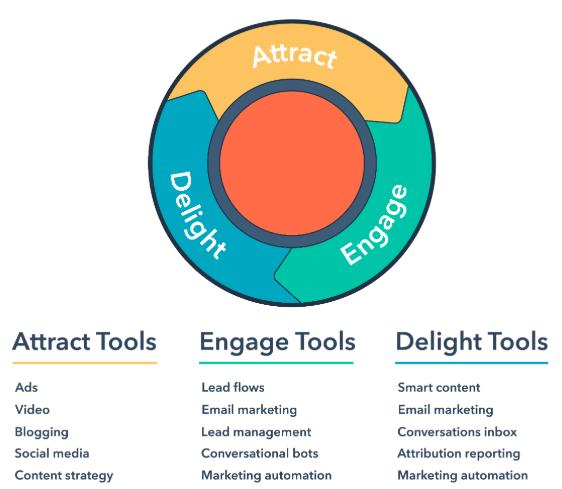 Build a Strategy for Success
We help you to define your new go-to market strategy, create and document your ideal customer profiles and detailed buyer personas, and work with you to implement this strategy both on HubSpot and through your marketing and sales functions.
We will also build you a data set, known as a prospect ecosystem, which will fit your strategy from day one, and will maintain that data for you for the lifetime of your HubSpot platform on a month to month basis.
The strategy that we help you create will take your customers through their entire buyer's journey, where it is essential to be sales-orientated and plan the whole process that gets your target audience ready to speak with your sales team. Our CRM strategies determine the key objectives of your campaign and plan the optimum way to achieve them, utilising HubSpot's marketing, sales, and service tools.

We will also teach you how to use HubSpot to set up automated workflows for your marketing and sales e-mails, schedule social media posts, create a contact management strategy, and segment your contacts into lists that can receive tailored messaging that is most relevant to them. To accommodate this, we will show you how to measure and track the results of these efforts in HubSpot using the platform's automated analytical tools.