The world of marketing has seen a significant shift towards digital-first approaches in recent years, and the marketing landscape has never seen a more rapid change than in 2020. Almost overnight, digital marketing became the most viable marketing solution across all industries, and in many cases, an essential way for businesses to survive.
HubSpot is one of the most popular online marketing platforms available, and for good reason. It is the number one 2020 Top Rated All-in-One Marketing Platform on TrustRadius, winning a Top Rated award for having excellent customer satisfaction ratings.
HubSpot's marketing automation software is designed to help you attract your target audience, convert more visitors into customers, and run inbound marketing campaigns at scale.
New tools, templates, and resources are continually being made to further enhance your marketing strategy in the ever-advancing digital world, equipping you with the resources you need to reach, and exceed, your marketing goals.
Here are 10 of the key marketing tools and resources available on HubSpot today:
1. Smart content
Smart content enables you to automate tailoring your content to specific groups of people based on what is most relevant to them, increasing personalisation and engagement. You can segment your audience into groups including their country or preferred language, the lifecycle or buyer journey stage they are in, the device they are using, and their referral source. This also notifies you how they have found your content, including organic search, referrals, social media, e-mail marketing, paid search, direct traffic, and other campaigns.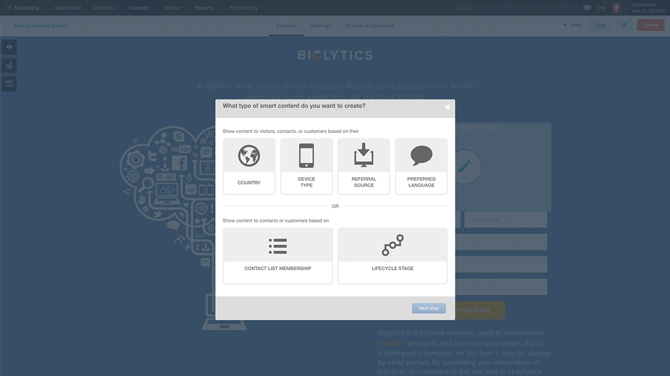 2. A/B testing
With the A/B testing tool, you can easily test and measure the engagement performance of different marketing e-mail content, subject lines, layouts, language styles and tones, levels of personalisation, visual elements, the number of links included, and more. This, along with the thorough data analysis provided on HubSpot, equips you to build an understanding of what works best for your audience, potentially including what works best for different specified groups or buyer personas within your audience, giving you the opportunity to enhance and maximise the potential of your marketing outreach over time.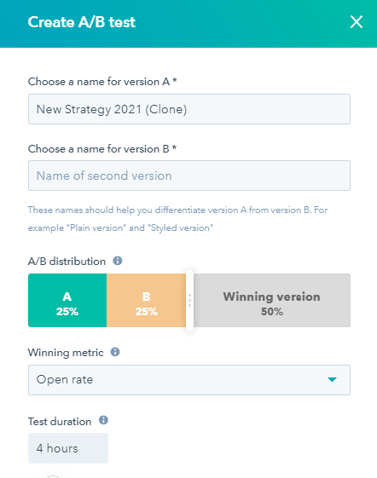 3. Predictive lead scoring
Automate your lead qualification and prioritise follow-up with predictive lead scoring. This powerful machine-learning tool draws from the customer data that HubSpot collects automatically, checking thousands of data points to identify and prioritise your best leads, ensuring that your teams are getting in touch with the right people at the right time. In addition, with machine learning your predictive score will continually get smarter and more accurate, so your lead follow-up process will automatically optimise itself.
Learn more about lead scoring in HubSpot in our 60 second video below.
4. SEO tools
HubSpot's SEO tools provide actionable recommendations on how to best optimise your website for search. These are prioritised and ranked for you in order of which optimisations will have the most impact on your SEO performance – enabling you to easily see what can be done on specific pages to improve searchability. HubSpot's content strategy tool takes this one step further, making it easy to discover and rank for the topics that matter most to you and your customers. You'll receive topic suggestions based on relevance, popularity, and competition, and have access to monthly search data helping you to plan ahead.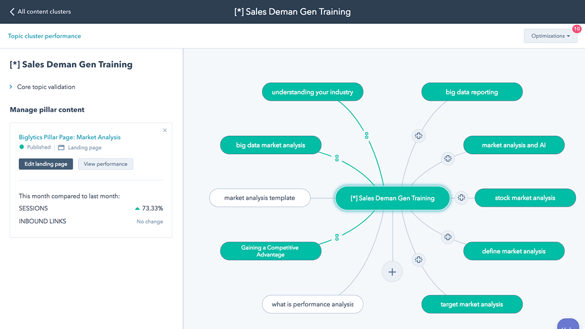 5. Marketing automation and workflows
From creating workflows to running e-mail and marketing campaigns that respond and adapt in real-time, to automatically logging and displaying engagement performance analytics, to scheduling and tracking social media posts – HubSpot can automate many aspects of your marketing practices in one place. You can set up your workflows to score your leads and rotate them to sales, and provide internal notifications when a contact takes a note-worthy action. Run multiple campaigns in the background and remove the need for manual intervention to free up your time and deliver results in your absence.
6. Live chat and chatbots
Set up live chats to automatically connect your website and Facebook visitors to the right people on your team. Customise the chat to the design and feel of your brand, and create automated targeted welcome messages for different web pages or segments of your audience. Every conversation is automatically saved and stored on the contacts timeline and in your conversations inbox to keep track of every interaction.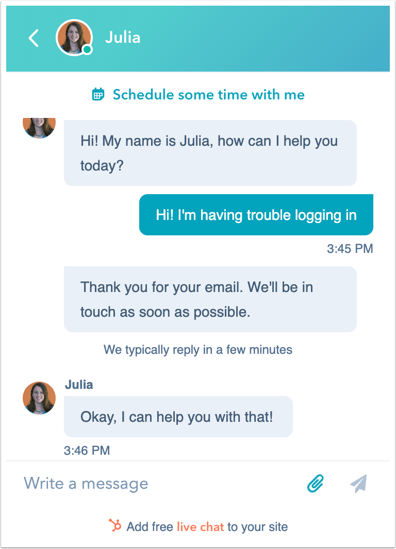 7. Video integration
Easily integrate videos in your marketing and web content. Host and manage video files within HubSpot, and seamlessly include those videos into website pages, blog posts, and social media channels. Optimise the searchability of the content with metadata, insert calls to action and forms into videos to capture more leads, and access up-to-date engagement data with your videos to measure ROI.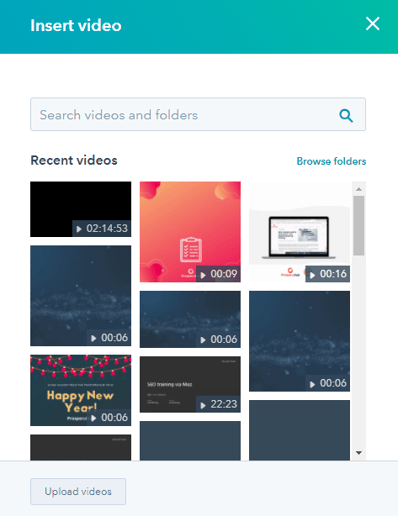 8. Marketing analytics
Measure the performance of all aspects of your marketing campaigns in one place and become a data-driven marketer. HubSpot provides analytics reports and dashboards to make it simple to track your audience's engagement with your marketing content. You can also track the complete customer lifecycle, highlight key trends in your reports over time, access contacts in each stage of your workflows, and understand the quantity and quality of your website traffic on a page-by-page basis.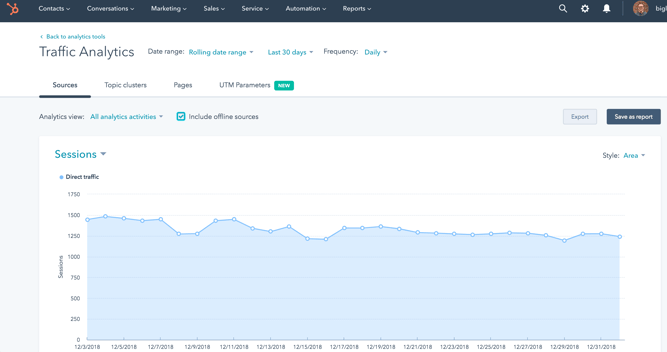 9. Form builder
Create forms quickly and easily with the drag and drop HubSpot form builder. There are 12 different field types to customise your form with, and an allowance of up to 1000 form fields, to collect the most useful information for your intended purpose; text fields, date pickers, and check boxes are all available. Add forms to the web pages you choose in seconds, or create standalone web pages to share your forms with ease. You can also set up notifications, automatic e-mails, and workflow enrollments when forms are completed to nurture your contacts and save you time.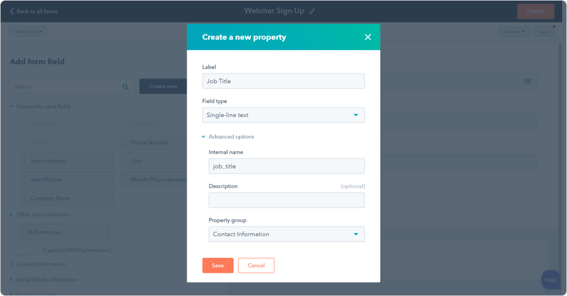 10. Account-based marketing
Account-based marketing allows you to align your marketing and sales teams from the start to advance long-term business growth, satisfy customers, and boost revenue. Through HubSpot, your marketing and sales teams can easily collaborate to create personalised buying experiences for an identified target audience. This maximises your business's relevance to high-value accounts, measures your return on investment, streamlines the sales cycle, delivers consistently high customer experiences, and expands your business through account relationships.
Looking to maximise revenue opportunities?
Get Your Account-Based Marketing Strategy Guide
👇