HubSpot's technology saves critical time in your busy schedule by automating administrative tasks in your marketing campaigns and sales outreach. Remove tedious manual processes and let your teams focus where they are needed most – on your content and customers!
We have collated some key tips you can learn to understand how to save time and achieve efficiency with HubSpots powerful tools.
The HubSpot Workflows tool enables you to automate almost anything in HubSpot. Create workflows for your e-mail and marketing campaigns that respond and adapt in real-time, score your leads and rotate them to sales, and set internal notifications for your sales team when a contact takes a note-worthy action. You can run multiple campaigns at once without the need for manual intervention, freeing up your time and saving hassle.
Unfortunately, many organisations fail to utilise the vast benefits of automated processes. That's where we can help! Read on for our top tips to unlock the full potential of HubSpot automation.
Power your processes with workflow automation
1.

Set

d

efault

p

roperty

v

alue

s
Through the 'if/then' branching option in workflows, you can set a default property value for contacts who meet the enrolment criteria of the workflow, but don't already have a value set for that particular property.
This means that if a contact is enrolled in the workflow without information on that particular property, their data will be updated with the default value you have set. The ability to customise the default options set to make them relevant to your sales journey makes this feature extremely useful.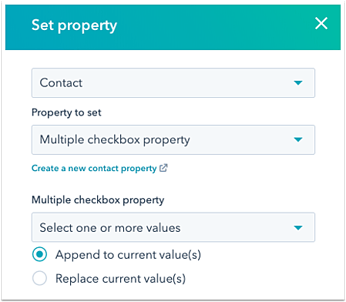 Top Tip: One of the most effective ways to use this feature is with the Lead Status property. Lead Status is a default property within HubSpot's CRM system that measures the progress of your leads along their buyer's journey. This feature allows you to keep track of your prospects before they enter your deal pipeline, and then uses deals to track their progress once a potential sale is on the table. By knowing exactly where your contacts are in their buyer's journey, you can ensure that you are always sending the right information to the right people at the right time.
2. Automate

l

ead

r

otation
In many businesses, Sales Managers would traditionally allocate leads to team members as they find appropriate. However, as your business and sales team grow, assigning leads manually can be an extremely lengthy process which can result in potential leads getting lost in the process; but not anymore. Automating lead rotation can save you significant time and effort, and removes the risk of any contacts slipping through the cracks.
How does it work?
It's simple: leads can be automatically assigned to HubSpot owners by dividing them up evenly to your selected sales team members. As you can see in the example from HubSpot below, three sales members were selected as HubSpot owners for a specific campaign. This means the leads are split up evenly between the three, each receiving 33% of the contacts.
3. Automate deal and task creation
Some of the most time-consuming tasks for your sales teams are creating contacts, logging tasks to follow up with them, and creating opportunities with them. Automating these tasks frees up your team's time to focus on selling more.
Through HubSpot Sales Automation, when you select a workflow action you have the options to 'Create a Task' and 'Create a Deal':
When you

'

Create a Deal

'

, you

can

assign a HubSpot owner, name the deal, choose a Pipeline, Deal Stage, Close Date, and

A

mount.

When you

'

Create a Task

',

you can set Status, Due Date, Owner, and Description.
Top Tip: Some common use cases of Deal and Task creation automation are:
Auto-creating a new Task to follow up in a few days when a prospect changes stages.

Auto-creating a Task or Deal when you import a new list of contacts.

Auto-creating

a new Deal when a prospect fills out a form, such as

'

Request a Demo

'

,

'

Contact us for more info

'

, or

'

Start a Trial

'

forms.

Auto-creating a Task for a follow up with a prospect or lead who clicks a certain Call-To-Action, views a Webinar, or views your pricing page, for example.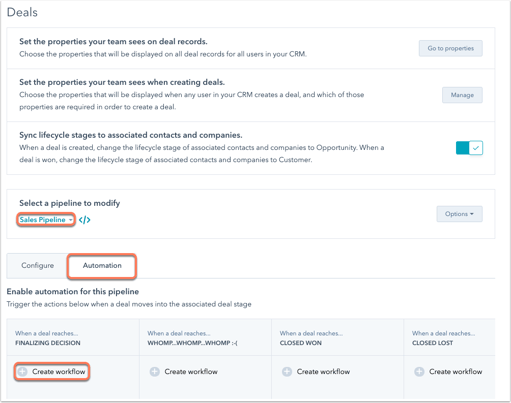 Enhance your HubSpot knowledge further with our HubSpot Essentials Workshop
ProsperoHub hosts a HubSpot Essentials Workshop each month to help Sales and Marketing professionals gain the skills and knowledge they need to use the HubSpot platform to its full potential.
Sign up to learn how to:
• Track prospects at every stage of the buyer's journey
• Effectively segment your data to deliver tailored marketing campaigns
• Combine the efforts of sales and marketing to gain a 360 view of performance against KPIs.
Register your place today to receive:
• A 1-day training session with ProsperoHub's experienced and knowledgeable team
• HubSpot 101 Training Guide to use between sessions and keep after the course
• Post-training help and advice through the ProsperoHub support hub.