We get asked this question so frequently.
"What's better to manage my content with? HubSpot or WordPress?"
Both HubSpot and WordPress offer their users Content Management Systems (CMS). Why are they so popular? Using a CMS eliminates the need to code when modifying a page on your website, publishing a blog, adding a new product or just making simple changes to your layout.
But which CMS truly provides Return On Interest (ROI)? Which one is more user-friendly to make your life easier, and get your content out to its audience faster? Which CMS best complements your existing tech stack?
Deploying HubSpot CMS, even with just the free tools is a game-changer for sales and marketing teams. Not only does it power your website/marketing elements, but it provides some fantastic insights relevant to your 'Speed to Lead' times and the 'Route to Revenue'.
Below, we'll provide a detailed comparison of both HubSpot and WordPress's analytical tools, blog management, data capabilities, search engine optimization tools (SEO) and theming and style capabilities. We'll also look at why HubSpot CMS is such a valuable addition to your existing HubSpot CRM tools, due to the more critical elements included.
Analytics
If you aren't using Web analytics to track your website's traffic you are missing important data on what is driving traffic, converting customers, and causing visitors to bounce.
Both HubSpot and WordPress offer great reporting tools. However, in terms of accessibility, you might need to do more fishing around to find the right one for your WordPress site. Reporting on your website is available via a variety of plug-ins on WordPress, so while it's not immediately available, the option is there.
HubSpot's analytics software is built right into the CMS. It's a one-stop all-in-one solution to tracking the effectiveness of your website. From the get-go, you can begin tracking your visitors, where they came from, and which content is converting the right people.
Get metrics on new contacts, customers, inbound links, keywords, views and visits with HubSpot CMS.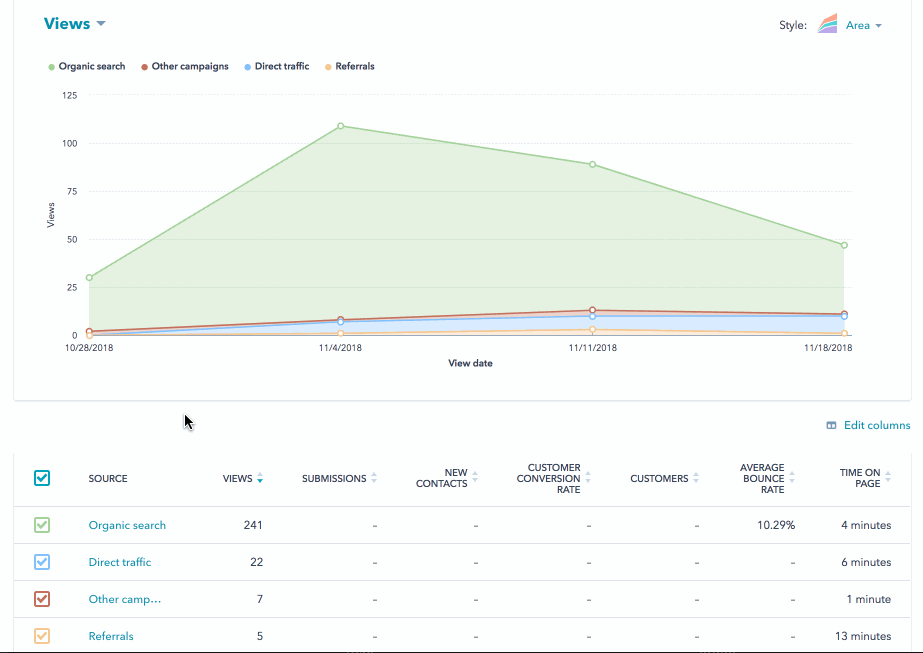 Source: HubSpot
Blog Management
WordPress has a standard blog platform so you can begin writing and posting quickly. However, there's no native integration with other tools, so again you'll need to power your site with plugins for all the extras, whether that's Divibuilder, Yoast SEO etc. It's pretty siloed initially so it takes tie to find the best tools that can operate in harmony.
HubSpot's blog management tool, however, is integrated with all the other tools you need, e.g. reporting, SEO (you'll need to download Google Console but it takes just a second!), and you have multiple intuitive capabilities in terms of what features you'd like to add into your blog, like images, GIF's, videos, CTAs and your analytics tools, so you can see which blogs are contributing to the customer journey. You can also easily schedule your posts and use the SEO tool to optimise your blog right at the same time. It's also linked to the RSS feed and the email signature tool for subscribing to updates.
HubSpot's blog also syncs with everything else in your HubSpot ecosystem, making it super simple to add CTAs to your posts, display social sharing icons, build workflows, monitor activity, and attribute which content is converting the right people.
Search Engine Optimization (SEO)
HubSpot CMS has SEO tools built straight into its system. You'll be able to identify average monthly search volumes of relevant keywords, map your pillar topics and topic clusters with strategic content graphs, and you'll get on-page SEO tips to better optimise your blog posts, website and landing pages. There's also a recommendations section within the SEO tools that flags any issues across your site that need attention to boost the strength of your site. Integrate Google Search Console and you'll get regular recommendations on how to strengthen your blogs to bring more visitors to your pages over time. And it's completely updated to comply with the latest Google Algorithm changes.
As with most things, WordPress doesn't have an SEO tool built-in, however, some of its plug-ins are great options, like Yoast SEO. SEMRush also has a plug-in for WordPress that is useful. It dies also require additional work to set these external services up and fine-tuning to get everything correctly integrated, however.
Theming and Style Capabilities
Most Content Management Systems have ready-made themes for you to select to revamp your website.
WordPress has thousands of themes across multiple marketplaces so you can find the ideal design for your own. Most of them are highly customizable without needing any coding.
Out of the box, HubSpot is significantly easier for customizing your website.
HubSpot themes are built using standard web languages combined with Hubl, and are sold on the HubSpot Marketplace. It has over 5,000 templates for emails, landing pages, web pages and blog pages.
The editor allows you to make on-page changes without any coding. When you work with HubSpot partner's like ProsperoHub, our developers can take care of this for you.
Support
While WordPress does have forums and documentation available to help with training, there aren't many walk-throughs in terms of certifications available like Hubspot offers. If you need to learn how to create something new or use a new tool in HubSpot, HubSpot's Academy certifications are free to take, and they're regularly updated to accommodate any changes in the CRM. This is an ideal option for anyone new to your team who needs to get up to speed quickly with HubSpot.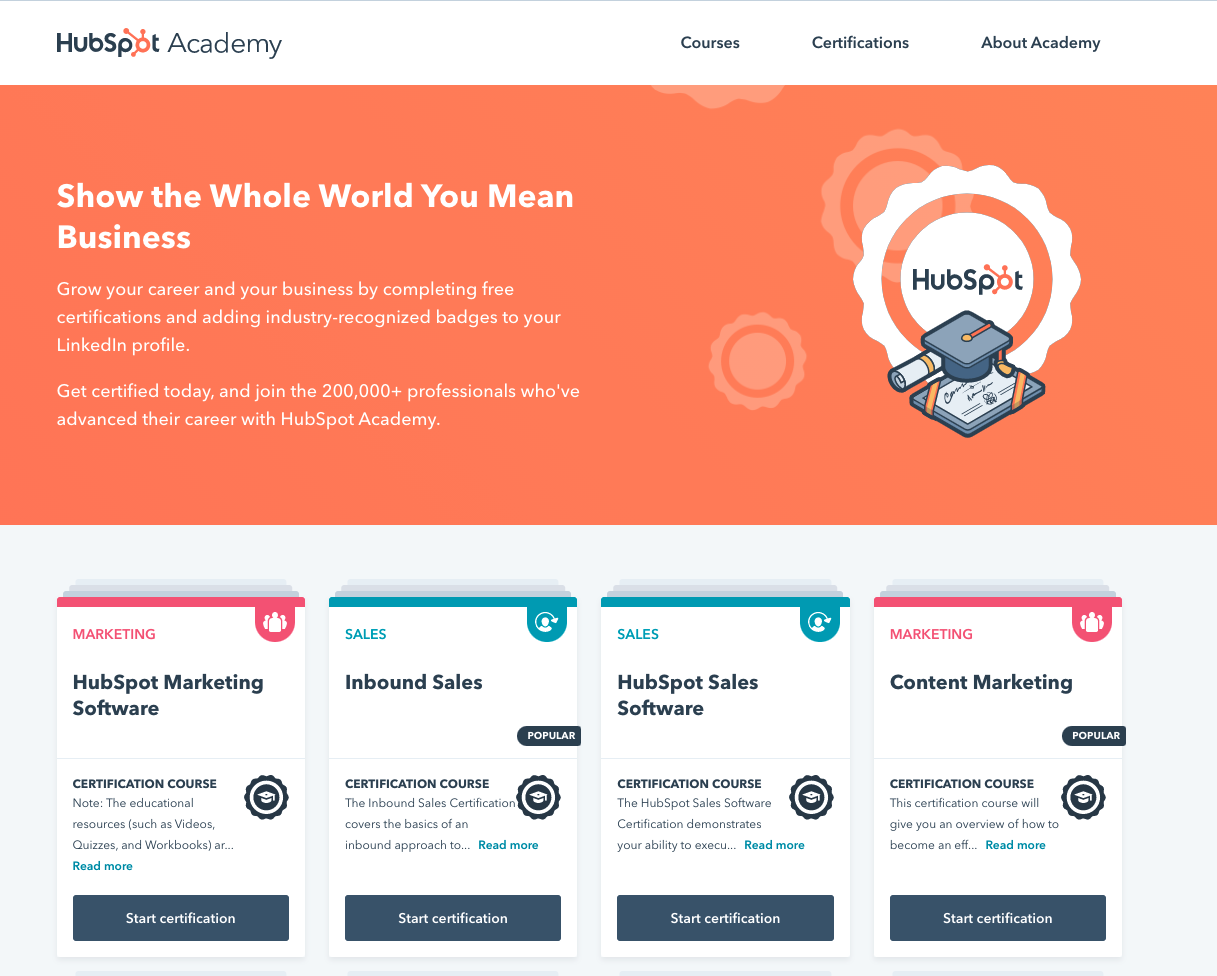 Cost
As an open-source platform, WordPress' sticker price is free, but there are necessary, hidden costs to operating a website that adds up quickly when leveraging WordPress. CMS Hub has a monthly recurring cost that you can pay on a monthly, or annual basis. With this sticker price, you get access not only to HubSpot's content tools, but our premium hosting & security features, regular maintenance and updates, support via chat, phone, and email, and all the features like email marketing, SEO optimizations, and live chat that come as part of the HubSpot CRM platform.
So now that we've compared both platforms, let's look at what it's costing to run each of them with a few extra features highlighted also.
| | | | | |
| --- | --- | --- | --- | --- |
| | Hubspot CMS Hub Starter | HubSpot CMS Hub Professional | HubSpot CMS Hub Enterprise | WordPress |
| Expense | | | | |
| Core website management tools | £19/mo | £300/mo | £900/mo | Free |
| Hosting | All three tiers of CMS Hub come with premium hosting that is included in your subscription fee. This monthly rate does not fluctuate based on pages, storage, or traffic. | | | Popular hosting platforms for WordPress like Pantheon have basic plans available for £37/mo, performance plans that go up to £749/mo, and custom elite plans. The plan you choose will depend on the number of pages, traffic, and storage you need, among other factors. |
| Plug-ins | CMS Hub has over 650 apps and integrations that can be integrated with HubSpot to extend the functionality of your website within the CRM platform. Furthermore, nearly 80% of the plugins listed in this article come in CMS Hub out of the box. | | | WordPress has an extensive ecosystem of over 58,000 plugins. If you were to install 24 of the most popular plugins for your website, you'd pay between £214/mo and £1003/mo. |
| Security | CMS Hub comes with a standard SSL certificate, web application firewall (WAF), and 24/7 security & threat monitoring out of the box. | | | As an open-source platform, ensuring that your WordPress site stays safe and secure is your responsibility. Monthly security fees can range from £12.49 - £31.21/mo. |
| Maintenance, updates and support | As a SaaS CMS, CMS Hub takes care of backend maintenance and updates. All customers also get access to our world-class support team 24/7, should they have any questions about their website. | | | Unless you have an internal team dedicated to the maintenance and upkeep of your website, you will need to ensure someone is running regular maintenance work on your site. Depending on the size & complexity of your website, this could range anywhere from £75/mo to £3370/mo for a business website. |
| Total | | | | |
| Estimated cost for 1 year | £225 | £3595 | £10786 | £4082 - £61,837 |
Source: HubSpot
What else am I getting from CMS Hub?
Aside from the CRM comparison, we like to think that HubSpot CMS has a few more tricks up its sleeve to make the perfect addition to your existing HubSpot CRM tools. It's more than just a website builder - it's the first-ever CRM-powered CMS built with developers and content editors top of mind, all while integrating sales, marketing and service teams seamlessly.
Maximise conversions with strategic adaptive testing: With HubSpot's powerful A/B testing options, you can monitor different versions of your content and optimise your pages to reflect the top-performing versions for maximum impact. It has up to 5 different variations using Hubspot AI.
Build a conversion-driven website: Through leveraging the advanced personalisation tools and SMART content, you can speak directly to your visitors with personalised messaging - and you can provide the content in multiple languages. You can also track visitor engagement with your site, and use that information to develop tailored messaging you can re-target them with. And since you have a contact record within HubSpot for every interaction they've had with your business, you can see exactly what content contributed to them becoming a customer, or map out the content they're already interested in, and send them more of it to convert them into customers!
Grow with traffic and analytics reporting: Yes, you can monitor page performance on both WordPress and HubSpot CMS, but with the integrated lead generation features HubSpot includes, every single one of your pages, forms, pop-ups and live chats can be adapted to steer your visitors through the funnel and convert more leads. All while leaving you with a trail of what content/assets grabbed their attention and converted them in the first place.
Populate web pages with object data: The ability to use CRM Objects in CMS Hub to streamline important data, both internally and externally, is so exciting. Instead of populating web pages with static information modules, your website can now reflect real-time changes to your objects. You can use this to present up-to-date listing information for products, services, and more at the drop of a hat. Create custom objects and modules, and integrate the rest of your systems to develop your pages.
Microsites: Through CMS Hub, you can quickly set up subdomains and alternate domains to host your microsites. Once you have a theme installed, publishing a new page is just a few clicks away. Test your content before it launches, harness affiliate marketing for partner lead generation, and simplify scaling - when you know which pages work, why wouldn't you use those templates again?
Integrate payment processing: When you integrate payment processing into HubSpot, you can cut down on manual
tasks and even produce more revenue through smart automation. Build payment links, automate the processes around them to build your revenue as a result. No need to rely on disparate tools to manage customers, operations, website, marketing, and payments. Your team get the full picture for every customer.
Event planning: With the CMS, you can bring almost the entire event experience under one roof. Get registrations through publicising it, manage your registrant and attendee lists, communicate after with your new prospects, and measure the impact of the event. Integrate ads, use Marketing Events to track success and use workflows to re-engage with attendees afterwards.
The capabilities of HubSpot are endless, While WordPress is a great option, you'll spend more time assessing, fine-tuning, updating and perhaps fixing siloed plug-ins than focusing on creating a valuable customer journey through your content. As HubSpot has everything connected, it allows you to develop a seamless digital experience for users that drives them towards becoming customers. You can see more of our capabilities and benefits, and how they compare against WordPress here.