Choosing the right CRM is foundational to your business. If we asked you to name one, you'd probably mention Salesforce or HubSpot. While there are many CRM options on the market, these are two of the top-rated CRM platforms in the world.
Both HubSpot and Salesforce provide large sales teams with a robust solution that scales with growth. But since there's usually only room for one of these CRM giants in your business, let's review their USPs in comparison, so you can decide which is the right CRM to grow your business.
Cost
Salesforce charges for every user and requires add-ons for essential features. Whether you're looking to align your sales and marketing teams, provide tailored reporting to board members, or letting your reps operate in a shared inbox, you could incur extra costs. And if you're in need of extra support, there are additional costs included.
HubSpot's pricing grows with your business. It's total cost of ownership amounts to a fraction of Salesforce's cost over time. It's pricing model is by far more transparent and scalable for businesses that are growing. The price includes phone support and free seats are available for team members who need visibility into the business - it's the perfect platform to grow your organisation at an affordable price.
You can see a clearer difference in costs below, according to HubSpot's website:
HubSpot Sales Hub Enterprise Pricing
Salesforce Sales Cloud Enterprise Pricing
List Price
$6,000/mo for 50 paid users
$7,500/mo for 50 users
Licensing Costs
Pay $120/mo for each additional paid user
Pay $25 - $150 per additional user depending on package
Implementation
Flat rate of $3,000 for Enterprise onboarding.

Additional technical consulting services available for additional fees
Salesforce offers a 'Jump-Start' implementation for $5,000
Platform Maintenance
Enjoy a seamless platform built on one code base
Set-up and maintain connectors for multi-cloud integrations

20 work hours to configure, with regular updates
Customer Support Costs
Phone and email support included for all Professional and Enterprise plans
20% of net-cost for phone support and 24/7 coverage

30% of net-cost for additional feature access (Add 5% for U.S. based support)
Outbound Calling Software

Included in all plans. Calling limits apply (2,000 minutes per user/mo for Enterprise); not available in all countries

Calling and Logging $45/user/mo (for 1,000 minutes)
Sales Engagement Software
Included with Enterprise:


Team Email
Conversations Inbox
HubSpot Video

Inbox $25/user/mo
More add-ons
ESTIMATED TOTAL COST P.A

$75,000

$170,400
Feature sets: What can it do?
Salesforce deserves it's reputation as a complex CRM for enterprise-level businesses. With regards to functionality, it offers more customization than HubSpot. However, if you want complete flexibility, you'll likely need Salesforce experts to guide you on implementing custom functionality.
HubSpot is uniquely dedicated to ease-of-use and simplicity for admins, reps and managers. It's cheaper to use across the board, and is intuitive out of the box. HubSpot can be administered in-house without third party developers or consultants. You also have all the essential tools for accelerating and automating repetitive tasks: email templates, automated outreach sequences, automated meeting scheduling, engagement tracking, and a dependable mobile app.
HubSpot
Salesforce
Control & Flexibility

Uniquely dedicated to ease-of-use
Spend less time and money getting system to work how you need it to
Customers have freedom to organise and administer CRM without hiring dedicate admin
Custom objects to let you architect your enterprise sales CRM for outright flexibility

Implementation and maintenance requires external administrators
Difficult to do what you need without pricey consultants
Not as user friendly

Power & Functionality

CRM combines a consumer grade user experience with enterprise power
Sales Hub: contact management, sales analytics, automation, pipeline management, and more

Top-of-the-line contact management, dashboards, analytics, pipeline management, sales automation, forecasting, and more.

Ease of Use & Adoption

Consistently ranked most user-friendly CRM & B2B software
Customers making a switch to HS see an improvement in data quality
Greater visibility into health of business via powerful reporting tools and automation features
Easy setup
Intuitive

Robust reporting that's endlessly customizable
Customization takes time and requires training to master
More difficult to setup

All-in-one Platform

CRM services were built by HubSpot
Unified, consistent user experience where data, reporting and individual tools are similar and work in collaboration with each other

Offers more products and tools, but breadth comes at a cost of usability and maintenance
Less integrated user experience for customers

Scale & Customization

Prioritises ease of use & prescriptive recommendations
Flexible data structure with custom objects
Ease of custom implementation
Flexibility to change and adapt your HubSpot as your business scales

Endless customization for complex organisations
Advanced features require more admin support, making it difficult to adapt quickly

Ecosystem

Installing and configuring integrations via the marketplace is simple with over 500 apps and integrations, many of which are native (HubSpot-built) integrations
Excellent add-on functionality through a robust app ecosystem
Offers open APIs and developer tools to help you cater your CRM to your company.

AppExchange is the largest and broadest CRM app marketplace, offering a wide variety of options for different requirements. AppExchange is the fast and easy way to extend Salesforce with over 3,400 apps and integrations
Offers open APIs and developer tools to help you cater your CRM to your company.
Excellent add-on functionality through a robust app ecosystem




Support

World-class support and customer success teams are available to all customers– with phone and email support at no extra charge for Pro and Enterprise customers– and you won't pay more for it as you grow
HubSpot academy - one of the top platforms in the world, available for all employees

Pioneered

the Flywheel Methodology

, a new way for companies to grow their business

Charges 20% of your net contract price for 24/7 premier support, while additional feature access costs 30% of your net contract price
Percentage pricing as you spend more on additional seats and add-on features
Collaboration/eliminating silos between teams
For sales teams, friction is the ultimate foe. Both HubSpot and Salesforce have great functionality for marketing and sales, and you can mix and match as needed,
HubSpot's sales, marketing and service suites were all built in-house with the user experience in mind. So you'll find that all of the individual tools are able to work harmoniously with each other.
Salesforce has endless tools you can add to your CRM too, however their breadth can come at the cost of usability and maintenance. As their platform has grown through Pardot, this can create a less integrated user experience.
At ProsperoHub, we don't segment our teams as marketing and sales. Because of HubSpot's ability to combine both sales and marketing activities to work as one process, we operate as one revenue generation team. HubSpot's Sales Hub eliminates friction by bringing all your tools and data together on one easy-to-use, powerful platform your whole team will love.
If ease of use is important for your business, for example if you have a team that is less digitally-savvy, HubSpot is a more supportive tool to allow your teams to collaborate, with plenty of free resources to help.
Automation
Letting your tools work for you is so important in today's world. Built-in AI allows your team more capacity to work while key processes continue running in the background, like nurturing contacts in workflows, or setting up automated tasks and notifications for your sales team to follow up with prospects.
Salesforce hosts Einstein, its own built-in AI - with this add-on, you can set up automated processes to take contacts through the buyer's journey - but again, there are costs involved.
HubSpot's automation features include workflows that you can build around any contact, company, deal and ticket values, so whether you want internal or customer-facing automation, you have the freedom to customise as you please. Some automation features depend on the license you have with HubSpot, including predictive lead scoring, recurring revenue tracking and custom event triggers.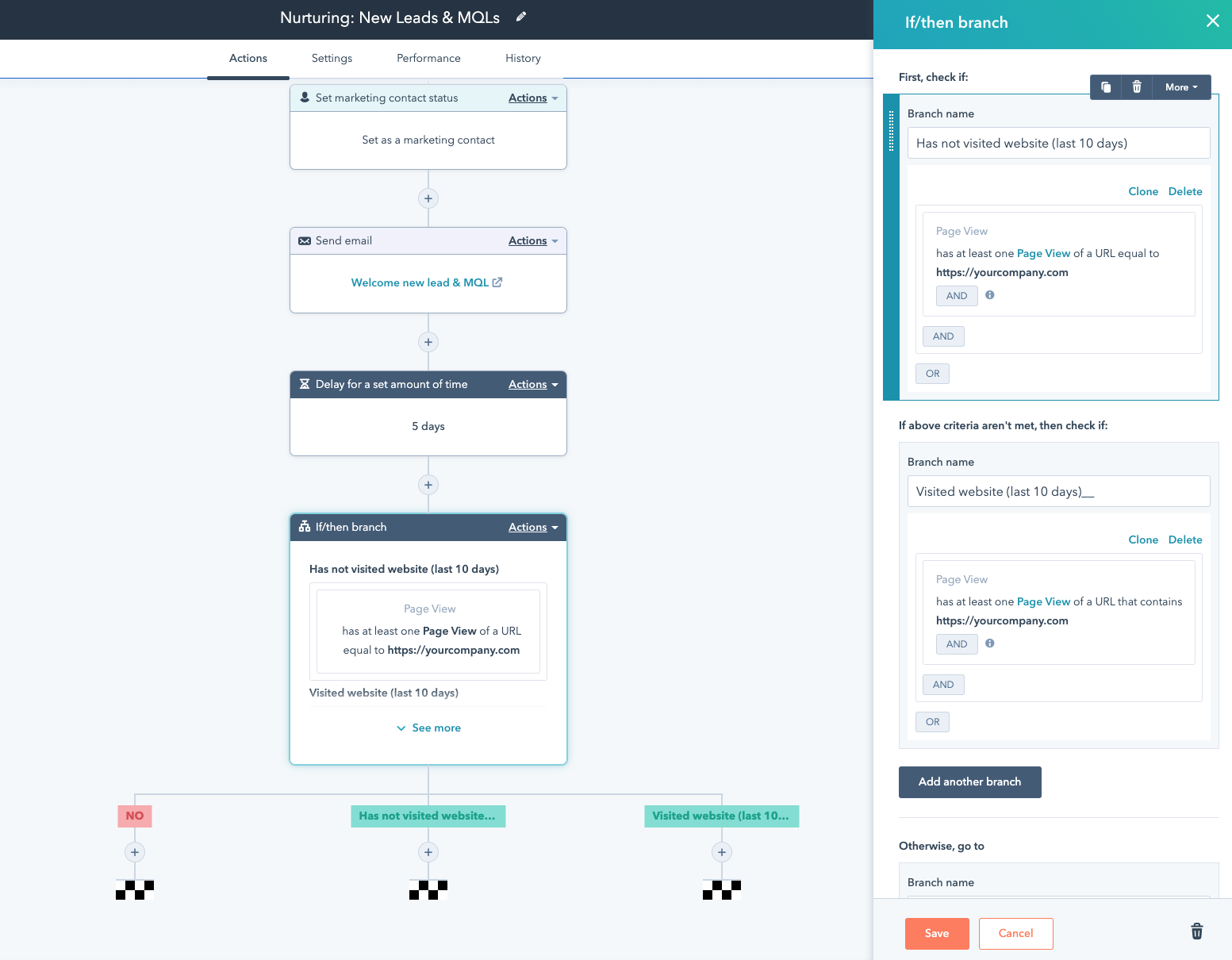 Reporting
Salesforce's reporting tools are endlessly customizable, but they take time to implement and require training to master. In today's world, businesses need to be able to adapt quickly, and HubSpot has previously been ranked above Salesforce for ease of setup.
HubSpot's reporting dashboard has undergone some key improvements recently, and the launch of its comprehensive collection of customizable, out-of-the-box reports to easily explore powerful insights, including deal change history, sales activities, revenue attribution and sales outcomes has really pushed the boat forward in terms of its capabilities. Combined with HubSpot's ease of use, it's difficult to compete with.
Making the switch - Salesforce to HubSpot
Can't make your mind up? HubSpot does also have a HubSpot and Salesforce integration - with HubSpot's fast, reliable, and powerful integration with Salesforce, syncing your data can be done in minutes – no technical setup required. This makes it possible to use both platforms for your different teams.
However, if there's only room for one CRM at your business, we would highly recommend HubSpot. Yes, we're a bit biased, but if you're going for impact, power and ease of use, HubSpot is at the top of the list. Our dedicated migrations team is here to help you confidently move your marketing and sales team onto HubSpot, with minimal disruption to your business. We don't just copy and paste your old, sub-optimal process. We'll help you design a better system that scales with your business.
Migrating CRMs isn't easy, so whether you choose to go with HubSpot or Salesforce, aim to choose a system with the simplest integration process, and a CRM you'll enjoy using for years to come. If you'd like to find out more about how we can help you move to HubSpot, request a consultation below.