Want to increase your business' profitability from your website? Conversion optimization is the key to generating more leads and revenue. Without this, you won't have a process for turning website traffic into leads and customers.
Optimising your website to specifically capture leads at every click may seem like a complicated process to accomplish. But the truth is, everything on your site can be optimised and tested to to improve conversion rates including website forms, content and CTA buttons.
Marketers and designers must take a more strategic approach for website optimisation, ensuring visitors have a contextual experience that nurtures them into a lead.
Below, we outline ways you can increase website conversions for lead (and more importantly qualified lead) generation via HubSpot platform.
1. Implement a chatbot for exceptional customer service
Today, your visitors, prospects and customers expect to connect with you in real time via live chat. However, most business find it difficult to support one-to-one conversations on a larger scale. Qualify leads, book meetings, and provide outstanding, cost-effective customer support with a chatbot. Automate and scale the chat conversations on your website so your team has more time to focus on the conversations that matter most. With HubSpot CRM, you can configure your bot to hand conversations off to a live agent once qualified, create support tickets, add users to lists and workflows, and so much more. The average conversion rate for a website is 1% - 3% - with this powerful tool implemented, our customers have boosted their conversion rates to the latter.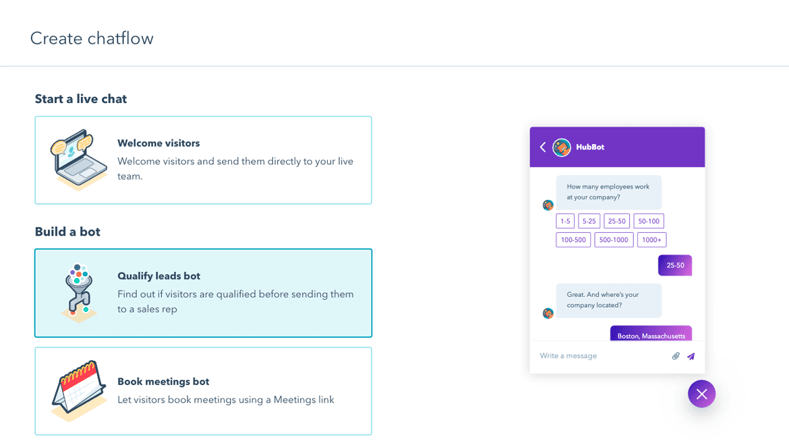 2. Add forms to pages that get the most traffic
It would benefit your team to conduct an audit before making changes to your website. The purpose of this audit is to ensure that your best performing pages are protected and enhanced, and that you have a record of the pages that need to be improved for conversion.
When you have identified the most popular content and where your leads are arriving from, ensure that the pages they are landing on are doing everything possible to nurture the visitor's interest. Consider adding forms, CTAs and pop-ups. We'll go into further detail below.
What are the most powerful lead flow tips and techniques?
3. Improve and track your Calls-to-Action (CTAs)
According to heat map analysis , anything "below the fold" will only be viewed by 50% of people who view your page. - HubSpot
Improve the position of your CTAs with HubSpot's CTA tracker tool. Create and test different types of CTAs, whether they're text or image-based, and A/B test them to see which ones convert the most. With full visibility on how you're CTAs are performing, you can optimise your website with the best ones to improve your chances of conversion,
Don't be afraid to test different variations; you can always switch back if the old version worked better. It will be worth it when you've found a combination that increases your site conversions.
4. Optimise your landing pages
Landing pages should be updated for conversion regularly. Just like pop-ups and CTAs, you have to test these pages to find out what actions are encouraging visitors to submit their details.
Create and test effective landing pages that generate leads and look great on any device with HubSpot's landing page builder - no designers or IT support needed. It comes with plenty of templates that are easy to implement and found to be more effective for website conversions. you'll be up and running in minutes.
Play around with the complete design of your landing page, and test shorter forms, CTAs, layout and more to enhance it. Preview how it will look before you publish, and personalise your landing page with smart content - this allows you to dynamically show different content based on a visitor's location, source, device, lifecycle stage, or any other contact detail you desire. Implement dynamic forms that never ask the same question twice.
The landing page performance metrics help you to identify your best converting landing pages in a centralised dashboard too. Get customised SEO suggestions, and dig deeper into how many visits, contacts and form submissions your page is generating.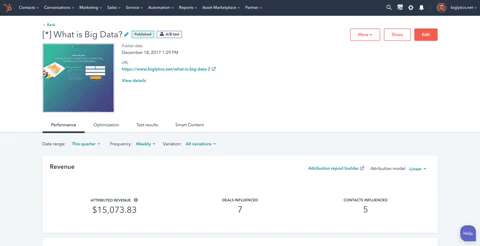 5. Use lead flows to nurture visitors with high-quality content
Lead flows are high-converting pop-ups designed to attract attention and offer value. Depending on the intention and execution, non-interruptive pop-ups can be powerful inbound assets. If you've seen a steady increase in website traffic over the last few months, adding pop-ups to some of your better performing pages could boost lead generation. If you have a blog with high-quality content, this is also a good place to implement your lead flows to add further value.
Use the lead flow tool in HubSpot create your pop-up, and attach thank you messages and follow-up emails to further nurture your leads.
6. Nurture your leads after lead flows
This is the part that catches most marketers out. No lead is going to magically turn into a customer. Leads are only as good as the nurturing efforts in place to engage them.
Place leads into a workflow after they've downloaded content for a certain topic, and send them more content related to this topic. If they continue to respond,
Make your website work smarter rather than not harder and generate more qualified leads and customers with conversion rate optimization (CRO).
For more ways to turn your website into a lead generation machine for long-term success, download our 10 step checklist for optimising your lead flow.
At ProsperoHub, we are experts in developing key website conversion strategies that nurture leads towards becoming a paying customer. Find out more about our HubSpot growth packages and how we can help you scale your business.