Do you ever spend chunks of your days working through complex problems only to realise later there was a hack that could have saved you all that time? We have all experienced this frustration. If only we had known? The best of us get stumped at the best of times. There is a solution though.

Below are five HubSpot "hacks" to frequently asked questions, to help you increase your productivity so you can spend less time scratching your head and more time on what is important to you: driving growth!
1. Use personal embedded videos in your Sales emails
I don't need to tell you about email overload. So how do you get noticed in your prospect's inbox? Video is about being different and relevant.

One way to be different is to send a personal video embedded in your email. For HubSpot Sales Professional & Enterprise Users, HubSpot has integrated free Vidyard access right into the email sending system.
Nice!
The novel video element increases engagement and delivers that cut through in a quick and personalised video. Two benefits in one package.
So to maximise that cut-through;
After you've done your research on a new prospect and their business, send a 100% one-to-one embedded video and start building rapport right away.
Top tip: Vidyard lets you know when and how often people view your
video – so you know who is engaged with your message.(and there is even a handy Chrome extension as well!)
2. Customise Your Dashboard

Your marketing and sales dashboards will have a number of automatically generated reports (up to 10 in most accounts). But did know you can customise these sections however you see fit?
Add, move, resize, and hide reports according to your interests. If the report currently at the top of your dashboard is not so important, move it to the bottom or remove it altogether. Place the most valuable data front and center.
Customising your dashboard makes the information you need readily available, saving you precious time whenever you check HubSpot.
3. Adding a Dynamic Meeting Link to Marketing Emails
Personalization tokens: we use them all the time in our marketing emails. They are simple way to help tailor the experience for each contact and make the buyer feel like more than just a number. But, when it comes to inserting a token for a contact owner's meeting calendar, it's not quite as intuitive as inserting a first name token. Nevertheless, it's important.
With the help of a custom contact property and the workflow tool, you'll be well on your way to delivering the correct meeting booking calendar to your contacts.
Please note: You need to be Professional or Enterprise users to enroll and update contacts with workflows.
Step 1: If you haven't already, once you have connected your calendar and customized your meetings tool preferences, you'll want to create meeting links to share with your contacts so they can easily book time with you. Keep this link handy, you'll need in later on.
Step 2: Create the custom contact property (e.g. "Meeting Link").
In your HubSpot account, click the settings icon in the main navigation bar.
In the left sidebar menu, navigate to Properties.
Click the "contact tab."
In the upper right, click "Create a property".
In the right panel, set up your property and select a Single-line text field type.
Click "Save"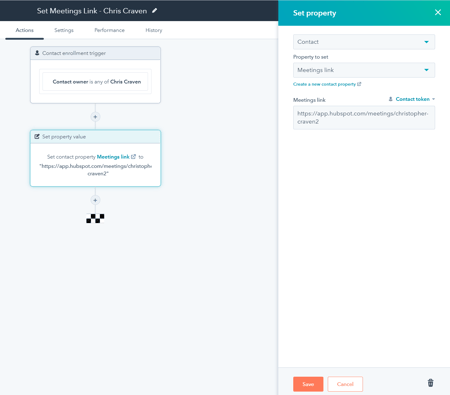 Step 3: In your HubSpot account, navigate to Automation > Workflows to create a new, contact-based workflow. I recommend creating a separate workflow for each contact owner with a meeting link.
Once you have your enrollment trigger set to be for the specific contact owner, you can click the plus icon + to add an action.
Click "

set contact property value "
Search for the custom property you have created (e.g. Meeting Link) and paste the meeting link for the contact owner in the "new property value"
Click "Save"
Step 4:
You will now be able to insert this "meeting link" as any regular contact personalisation token in your marketing emails, template, or snippet.
4. Stop Contacts from Being Automatically Created by the HubSpot Sales Extension
The HubSpot Sales extension is a great way to access your sales tools directly from your inbox, but at times you may not want to take advantage of all of its features—namely having contacts automatically entered into the CRM.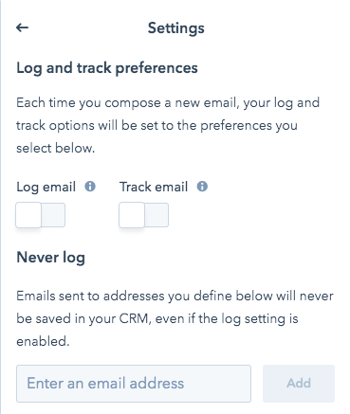 Are you trying to limit your contact count or just want to disable this feature? You can do so by deactivating the Log option in your Sales extension's log and track settings.
This will prevent contacts being created from any emails you send or reply to from within your inbox. After all, you may just be emailing your mum about what you're bringing to dinner. (If there are any contacts or email domains you know you will never want logged then type them into the box underneath Never log and click Add).
5. Automatically Email out Reports
Analysing data is key to truly understanding how your company is doing; but collecting and organising data and drafting reports is a real drain on time and morale especially for HubSpot beginners who are familiarising themselves with the software.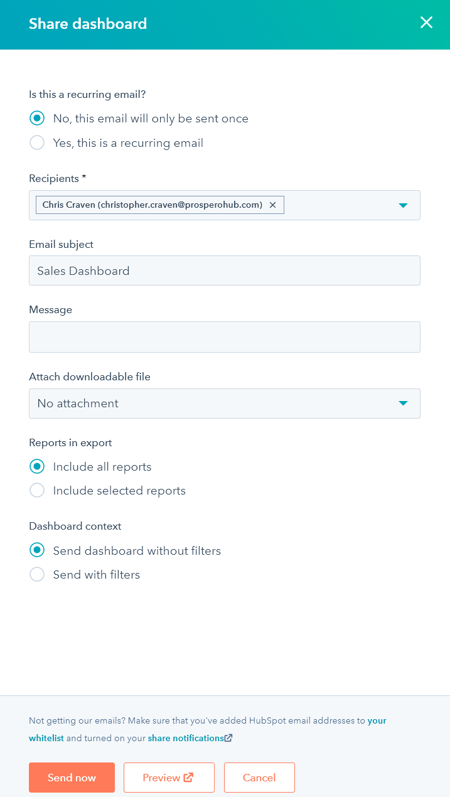 Whether you need to send a one-off email or send weekly updates to your team, save time by emailing those reports through HubSpot. Choose the date and time you want to send certain reports, and HubSpot will automatically generate a report on that day and send it off. Plus, email recipients don't need to be HubSpot users to view the report.
Are You Ready to Grow your Company?
Book a free consultation with one of our ProsperoHub experts to learn more or request a demo of ProsperoHub.