It can be frustrating when your business is not able to make quick and smart decisions because it is not agile enough to manage tasks efficiently. That is why HubSpot's workflow management tool can help you save time through automation and minimise the room for error when reaching out to potential leads.
What is a workflow?
HubSpot's workflow tool allows you to automate your marketing, sales, and service processes to help scale up your business activities. A workflow consists of a starting condition that can be triggered when a lead falls into a workflow. Such triggers could be when a contact visits a page, completes a form on a landing page or can even be manually triggered by you.
What does a workflow do?
A workflow can use enrolment criteria's to automatically enrol records and act on your contacts, companies, tickets and more. This will enable you to act on associated records, such as updating an enrolled contact's associated company whilst making your marketing, sales, and service processes more productive and consistent.
An example of a workflow in practice
Not all workflows are the same, they can depend on your goals, method you want to test and metrics you want to measure. Here is an example on what one of many workflows can look like:
Send an email with a link to a specific landing page;

If a lead engages with the link, they will be directed to your chosen landing page;

On that page, you may be promoting an e-book covering a topic which would be of value to that lead.

The lead then completes the submission to access the e-book - you now have a conversion.
Continue reading this blog to better understand how to use a variety of workflows in HubSpot, which in turn, will help your business improve communication, lead flow and of course, your return on investment (ROI).
Types of HubSpot

workflows

that you can adopt

to achieve

your business goals
Creating workflows in HubSpot offers just about endless opportunities to automate your marketing, sales and services efforts. It can difficult to know what type of workflow works best for your team as well as your objective.
1.

Lead score notifications
Using a lead scoring checklist is the process of assigning values, often in the form of numerical "points" assigned to each lead you generate. This process helps your sales and marketing teams prioritise leads, respond to them appropriately, and increase the rate at which those leads become customers.
In workflows, you can set a score and once a contact reaches that threshold, they can have their lifecycle stage updated or an internal notification send to your sales to team prepare to offer them your service.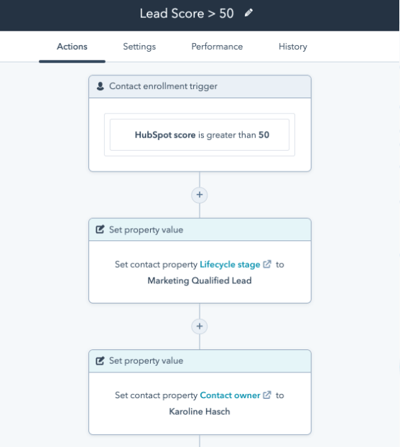 2.

Lead nurturing
This is a key workflow, as it aims to nurture leads with relevant content that encourages them to move through their buyers journey with the aim of making a conversion. The key is to provide leads with relevant email content that sparks their interest and upon reviewing that a lead may have downloaded an e-book.
It is essential to provide them with follow up content that they have never read before. One way to ensure you do not make this mistake is by implementing if/then branches which will avoid sending a contact an email that features content they have already digested.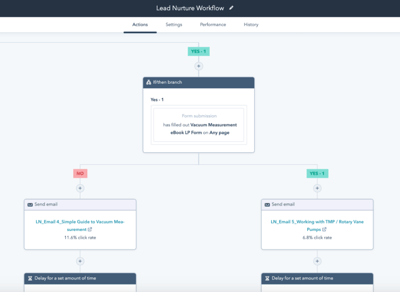 3.

Updating life

c

ycle stage
This is an important feature that segments leads who are valued as Marketing Qualified Leads (MQL's) or Sales Qualified Lead (SQL's). Connecting with leads by sending the right content at the right time is crucial, therefore developing effective sales e-mails is integral to your success.
In HubSpot, you can automate this feature by interacting with MQL's and SQL's depending on the options you have chosen in the workflow. The beauty of HubSpot's workflow tool is that it will automatically update the lifecycle process. For example, if a MQL reaches a deal stage then is will be converted to an SQL.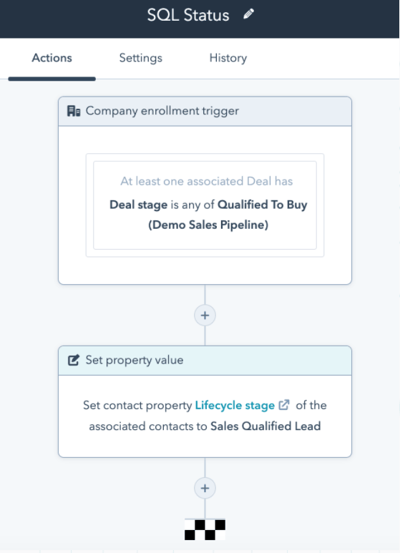 4.

Internal notifications
HubSpot's internal notification workflow is a fitting example on how the system is not only beneficial externally when dealing with contacts and customers but for internal communications, equally. An example of this in practice could be that one of the sales team's contacts may have a trial that is approaching its expiry date.
By creating an internal notifications workflow, the sales team can be notified of the upcoming date and prepare a call with the customer about renewing their subscription.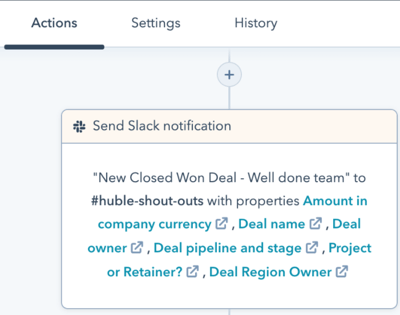 5. Re-engage dormant workflows
A re-engagement workflow is a great way to revitalize an unengaged contact to purchase your product or service. It is important not to forgot about dormant contacts as it can hinder your marketing metrics as well as potentially storing unhappy contacts.
Our CRM data management checklist can help you determine what contacts are needing to be re-engage and those who are not interested entirely creating the opportunity to reach out to that group and remind them of opting out.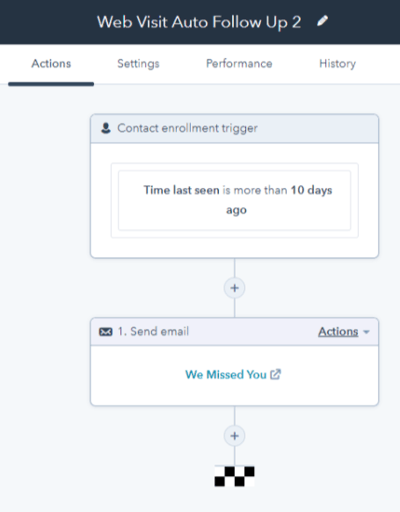 6. Qualify out leads
It is possible that not all your leads will be what you are looking for. False leads are simply unqualified leads, who are not worthy of your sales team spending their time and resources only to find out they provided intricate data to a potential competitor. Therefore, you can create a workflow that excludes from lead management campaign or email activity.
To ensure they remain excluded and "unqualified", clear the properties lead owner, lead status and lifecycle stage so that they will not be enrolment in future workflows.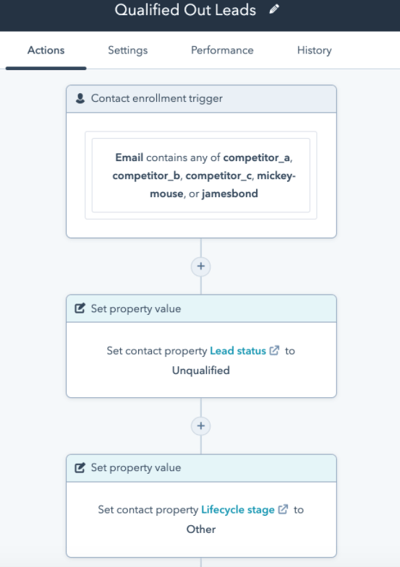 7. Assigning lead owners
Lead owners could be any relevant member of your marketing, sales and customer service teams. It is important to note, that a form submission notification must be implemented to inform your teams that a new contact has been created. This will strengthen communication across all teams within the business management processes.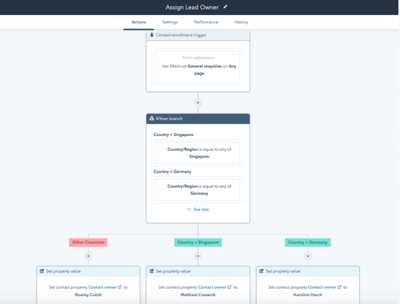 8.

Webinar/event reminder
The difference between this workflow and lead nurturing workflows is that the emails must be sent on a specific date and time in accordance with an event that is being promoted. HubSpot's workflows offer you the flexibility to schedule triggers days in advance.
For example, you could send an email two weeks in advance and nearer the time of the event, those who did not open it can be sent a gentle reminder – you do not want people missing your big event!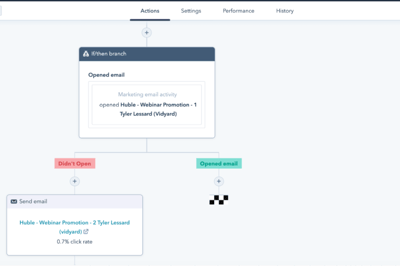 How to maximise and refine workflows for results
It is important to remember to always check on the progress of your workflows and not forget about them. Chances are that your first workflow will not be great – it can take time to understand what you want to achieve from them.
Customers are becoming more aware of marketing efforts and others seek content that they have never read before. You will need to refine your workflow strategy consistently to provide for your leads and your customers.
Here are three key areas to remember when working with HubSpot's workflows:
Maintaining your workflows
Gaining a clear understanding into the content and areas your contacts are most interested in is important. This enables your team to gain insight into where resources are best spent and which content to prioritise in your marketing outreach. One way to keep your workflows healthy and effective is by referring to metrics on a regular basis.
HubSpot offers a considerable amount of analytics, therefore you can spot what worked and is not working, making it easier for you to refine your workflow strategy to achieve its specific goal.
Analysing your workflows
You may have found a few areas to improve in your workflows, so let your creative side flourish. Our 60" series on A/B e-mail testing webinar can help you determine how to best resonate with your audience and what to avoid. Providing contacts content that satisfies contact's needs will make them come back for more, help them through their buyers journey and to a potential conversion.
Acting on your workflows
Refine, analyse and refine. By continuously looking at ways to improve the effectiveness of your workflows, you can spot arising issues earlier which will avoid upsetting your contacts. This can result in leads moving down the funnel quicker and making a conversion based on their seamless customer experience that was human, helpful and holistic.
Interested in how HubSpot's workflow management tool can help your business increase conversions?