Successful inbound sales and marketing is all about the marriage of context and content. Your tools only work as well as you use them.
Just because you give someone a car and tell them to drive, doesn't mean they'll drive it properly. The same goes for a business using a CRM without the correct knowledge and insights to drive revenue.
In this blog, we'll outline the best sales enablement tools to help you close more leads, and while we're at it, we can help you identify the best way to use them within your existing sales processes to get the best opportunities surfaced quickly.
Developing a seamless sales process
So which tools should you implement to ensure you have a smooth sales process to convert sales qualified leads?
Conversation routing: View, manage and reply to incoming messages from multiple channels. Triage messages sent via email, Social Media, Chat Bots, or your own website in one unified inbox. Perfect for those members of your sales team who are dealing with fresh enquiries. You can even create tickets from each conversation to track a visitor's overall experience with your business. And, depending on your HubSpot subscription, you can create multiple inboxes for different teams using HubSpot. Instead of your team taking time to go in and out of each individual channel, you can connect your team email inbox, form responses, Facebook Messenger, Chat, any Chat flows or Live Chat, and have everything in one place to engage with the most valuable enquiries, faster.


Snippets: If you're chasing down warm leads, we bet you're using a very similar email to reach out to each of them, with a sprinkle of personalisation that could add a few more minutes to this task. With snippets, you can prepare reusable text blocks that you can quickly access through keyboard shortcuts. This allows you to send repetitive messages faster, and you can also add personalisation tokens to automatically drag through the tailored content like first name, company name, industry name etc. Simplify sales communication and make your email pitches faster.


Tasks and Task Queues: Every missed follow-up is a lost chance at a connection with your prospects and customers. With HubSpot's new tasks interface, you'll never let a task slip through the cracks. Keep track of your to-do list with the Tasks - streamline your sales process to minimise any procrastination during the day. Stay in the zone by creating Task Queues - once you've marked one task complete, you're automatically taken to the next one.

No clicking back and forth between the Tasks home screen and your contacts, companies, and deals. No distractions. Just your tasks.




Meeting links: Meeting links allow your prospects to book a time that works for both of you, without the back-and-forth friction of an email. You can even embed the meetings widget on one of your pages to allow visitors to book time with you while they're on your site, and create custom settings that allow for a certain amount of time before contacts can book you in, giving you time to prepare an exciting pitch.


Generate a sales quote: Create and send sales quotes automatically, and even collect electronic signatures and payment from the same place you manage your deals. Generate polished, branded quotes in seconds so you can close deals faster when your product is top of mind. Your prospects value speed and efficiency in the sales process, and sending one over on the same day means you can hit your revenue goals faster.
Quickly identify the leads most worthy of your time
The many best in class tools available to refine your sales process within HubSpot is exactly what gives your business the edge against your competitors.
In addition to this, having a predictive lead scoring strategy provides key insights to your marketing and sales team, to allow them to see which contacts are most engaged from different audiences.
If you have one audience, a single score suffices. But as your company scales, you'll sell to new audiences. Without lead scoring, you're left with a long list of contacts with very little segmentation in terms of what they mean to your business.
You'll also spend quite a few minutes scrolling through contact records to see who is opening and responding to emails, which websites they visited, and whether the business meets your criteria. Score contacts according to the criteria most important to you, so you can be sure that anyone who surfaces with a high enough score is worth contacting within a couple of minutes.
If your contacts aren't "one size fits all," your scoring system shouldn't be either. With HubSpot, create up to 25 different scoring sheets to ensure you're qualifying leads in the right way for every part of your business.
Focus on selling, rather than wasting time trying to identify the warmest leads.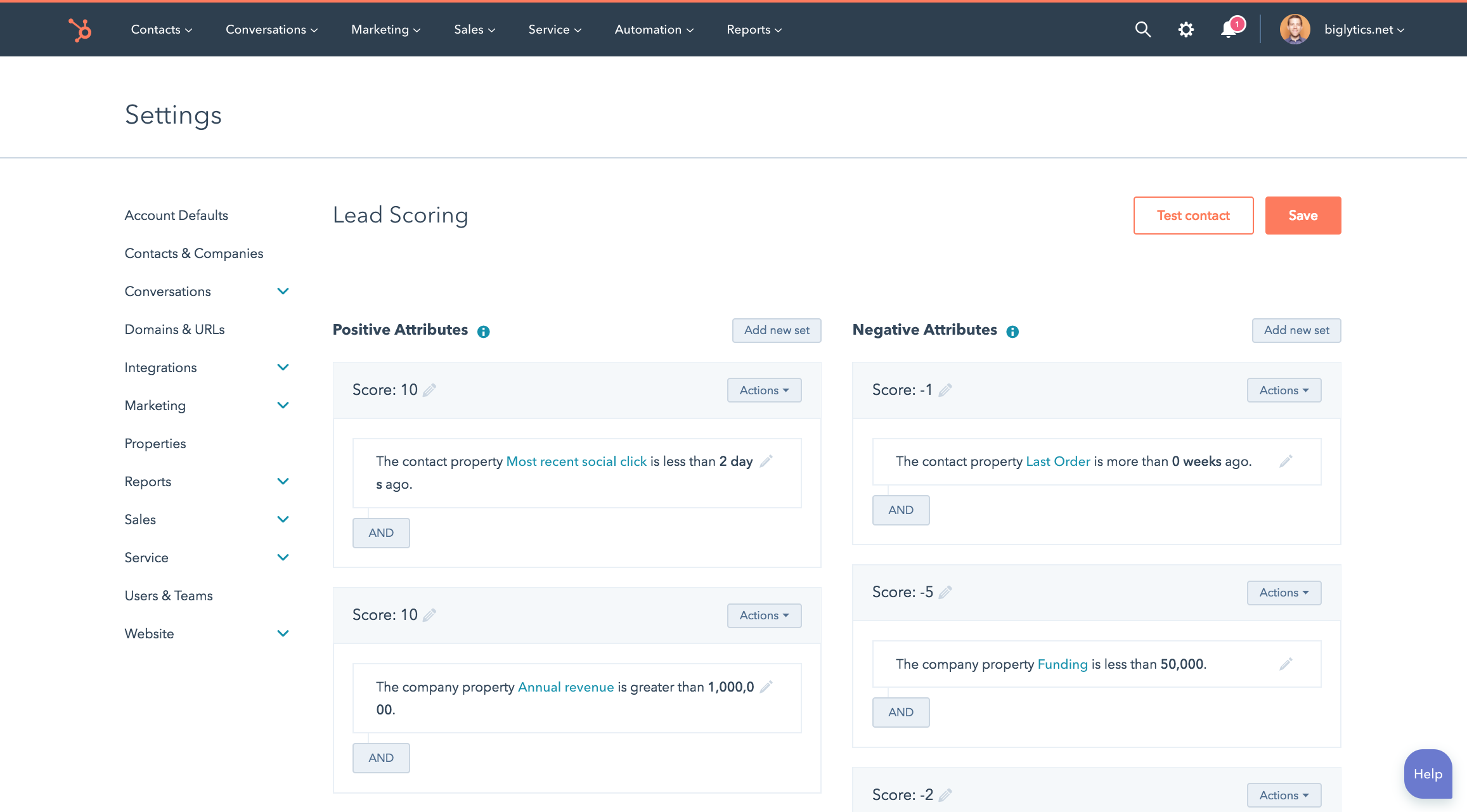 Achieve a 1-2-1 connection with your Sales Qualified Leads at scale
So now that you have the processes and organisational tools in place, it's time to put the tools that will generate the opportunities to work. Take a look below at the sales enablement tools designed to close more leads.
Templates:

Save repetitive content as

a f

ull sales email template

, and cut your time spent on pitch outreach via email in half. Add personalisation tokens, and tailor the content to your recipients. Got the best reputation for email pitches in your team? Share your well-crafted templates with your team so that they can reap the benefits too. You can also add templates to your sales sequences, a powerful automation too that we'll look at next...


Sequences:

Close more leads with

sequence

s and workflows while your prospects get nurtured automatically.
Create a series of sales emails and add them to the Sequences tool to send them automatically. Let Sequences work your 1-50 hot leads while you continue to work on the rest. Tailor your sequence emails with contact and company context, and add specific details to each message to connect with your prospects in a 1-2-1 manner. Except for you, it's 1-2-few. Enrol up to 50 contacts into your sequence, and queue up your series of emails with follow-up tasks so you never lose touch with prospects - and they don't slip through the cracks. Put time back into your day by automating your follow-up entirely.



1:1 video creation:

The power of video is in full force, but you might still be struggling to load yours via your CRM, let alone successfully sending one. HubSpot can easily help you create, host, manage, customise and measure video, and they require very little set-up.

To make sure these videos play fast and run smooth for your prospects, we partnered with long time HubSpot Connect partner,

Vidyard

. More importantly, if you want to build trust and strong relationships, using video is a simple way to establish this quickly. Let your prospect see who they are talking to without wasting your day setting your video up for outreach. Think about it - are you more likely to respond to an impersonal text email or a short personalized video? Cut through the noise and start sending customized one-on-one videos right from the CRM.




ABM:

1-in-5

accounts targeted through

Account-Based Marketing

(ABM)

becomes considered a qualified sales opportunity. You can automate your ABM strategy in HubSpot. Create your ideal customer profile, set up your Target Accounts, integrate your ABM software and begin building your campaigns, all in one place. With HubSpot, you can easily personalise your content and tailor your engagement, while having one simple dashboard to assess your progress for each target account.




Documents:

The documents tool can be used to create a library of trackable content for your team to share with prospects or clients - it's really an amazing tool - get real time alerts when a contact clicks an email link to open your doc, and view aggregate metrics on content performance. Know the second a prospect opens a document, and see which pages they viewed. Whether it's a particular product or pricing, you'll find out exactly what they're considering and can tailor your next conversation with them based on what they considered most.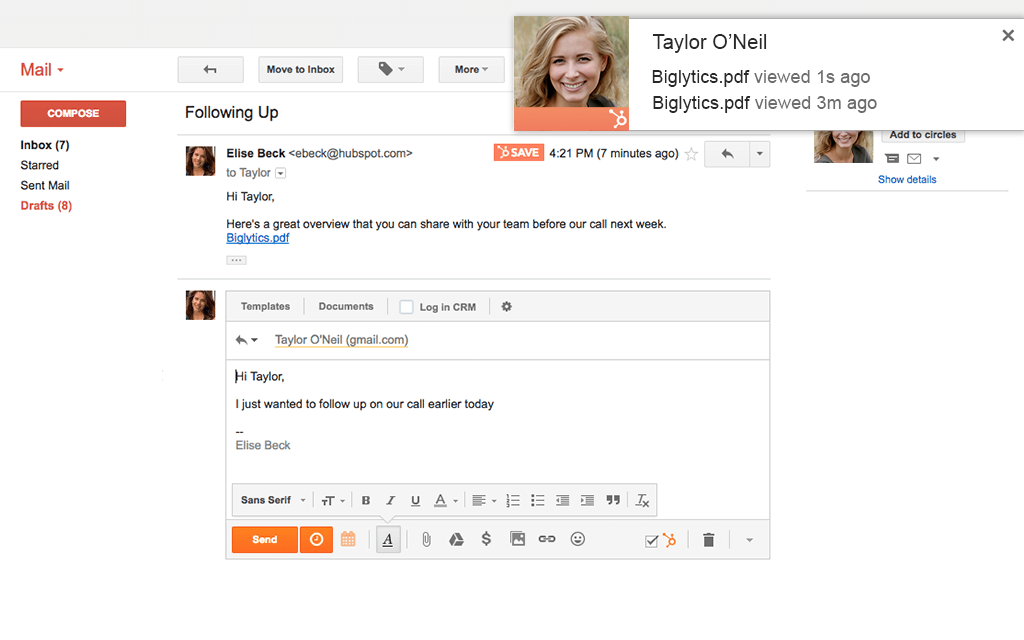 Neil's chosen tools to speed up closing more leads
Neil Ritchie is the co-CEO at ProsperoHub. Alongside managing the success of the business, Neil is also driving the success of the sales performance. We caught up with Neil to ask him about his favourite HubSpot tools for sales enablement and how they helped him close more leads over the last 12 months:
"I can't imagine running a Sales or marketing operation without the HubSpot CRM, Sales & Marketing Platform. The combined functionality supports our Digital First Outreach and our very bespoke 1-2-1 sales engagements. There are many great features so I am going to pick two. Firstly as a Salesperson I love the sequences functionality, this makes outreach personal and scalable. I have won many new clients using these tools. My seconds as a Sales Manager is the Sales Analytics tools. These give me granular information telling me how we are doing from a sales perspective. It lets me coach the team and look for areas where we can improve. The Sales Hub takes the CRM to a new level with the reporting analytics and automation available".
How can we help you close more leads?
At ProsperoHub, we have a buyer-centric, value-added approach to inbound marketing. With our expert consultation, you can narrow your dataset to the hottest leads and surface the opportunities that matter most. We can support you with the sales and marketing tools you already have in place, and create new or develop your existing processes to make your job easier and generate more opportunities at a faster pace.
Why not give us a try? Book your consultation with Neil Ritchie today.