"Without the right CRM system, 70% of all marketing leads are never converted to sales." - Pardot
An agile CRM Solution is the difference between your sales and marketing team hitting its forecasted revenue or falling short consistently. Even the best product is only as good as the service that comes with it - and as the demand for a streamlined customer experience accelerates, it's clear that service processes build trust, attract more prospects and encourage repeat business.
Are leads getting passed on? Do your reps know which opportunities are the hottest? Time is of the essence when your business is growing at an exponential rate. If you want to be more connected to customers and improve business performance, you'll need a CRM with the following capabilities in 2022.
To make this easier, we have listed the 12 essential features that your CRM system must be able to do in 2022 and beyond if you want to increase sales and enhance your lead flow:
1. Analyse site traffic with a traffic analytics tool
Track what visitors are viewing on your website with HubSpot's traffic analytics tool - with this you can see which sources bring the most traffic to your site, and you can even track known leads and visitors to see what they're viewing, providing your sales and marketing teams with key insights on buyer intent and prospect interests. Learn which pages or blogs resonate most with your target audience, and target leads who land on your website. This tool gives you the chance to capture and target all leads that land on your website.
2. High-impact Sales Enablement tools
For sales teams, friction is the ultimate foe - this could stall your growth. With the right sales enablement tools, your sales team has the ability to remove friction at every possible step. Close more deals by tracking prospect email opens and clicks, documenting opens and page views and creating tasks for yourself to follow up when certain activities occur. Get notifications for your most active leads when they reach a specific lead score and contact them at the exact point that they are ready to engage. Close more deals by tracking prospect email opens & clicks, documenting opens & page views and creating tasks for yourself to follow up when one of these activities occur. Get notifications for your most active leads when they reach specific score and contact them when they are ready to engage. The correct sales enablement process provides your team with the insights and resources they need to close deals effectively.
3. Lead scoring to qualify contacts, companies and deals
Lead scoring is a powerful tool that allows your teams to attribute points to different contacts and companies based on how engaged they are with your business. Positive attributes will increase a contact's lead score, which makes it easier for your sales team to target the hottest opportunities each day. Automate lead qualification with Predictive scoring, powered by machine learning, and prioritise follow-up by scoring your contacts across thousands of datapoints. The best part: as with any application of machine learning, your predictive score gets smarter over time, so your lead follow-up strategy will optimize itself .Here's a video to explain lead scoring and how it could work for your revenue generation process in more detail:



4. Manage your pipeline from start to finish
Stop letting lucrative deals slip through the cracks. Add deals with a single click, assign tasks, and track progress in your dashboards. Create new deals in no time, customise your pipeline to match your sales process, and track progress and diagnose the health of your pipeline, all in one system. By identifying where in your pipeline potential revenue is piling up, you can rally your team around the right deals. Whether you have an established sales process or you're starting from scratch, HubSpot CRM makes it easy to create your ideal process.



5. Be fully functional inside Outlook 365 of G-Mail accounts
Deliver enhanced email visibility and functionality where your sales team spend the most time. Create standardised email templates, automate your personalised messages or follow-up email sequences that salespeople could access directly from their inbox to increase their productivity and save time.
6. Book meetings without the back and forth
Eliminate the painful back and forth of meeting scheduling with HubSpot's Appointment and Meeting Scheduler. Share a link that gives prospects the power to choose a time that works for everyone — it'll automatically sync with your Google or Office 365 calendar. When you let prospects automatically schedule meetings with HubSpot's meetings tool, you'll save hours of time spent on unnecessary emails.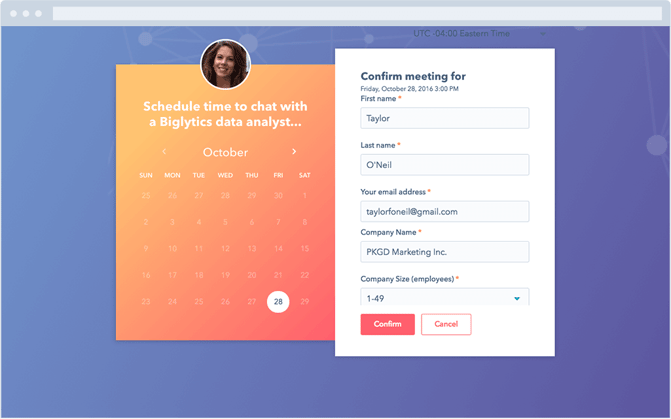 7. Sales coaching tools
Make it easy for management to coach and increase the QUALITY of their team. Review call recordings and email engagement against metrics like time in each deal stage and win ratios. Provide reports in sales dashboards to boost competition between your team members. The dashboards could include comparing results for different territories, total sales broken down by the sales rep or monthly revenue growth to ensure complete productivity when meeting the ambitions set by management.
8. Utilise highly targeted marketing automation software
Get all your marketing tools and data under one roof - and fully aligned with sales activities. Create content your prospects crave, and make it impossible to miss with premium tools to nurture contacts through each lifecycle stage. Convert more leads with a personalised yet scalable strategy with features like lead tracking and management, account-based marketing. Develop highly targeted campaigns using smart modules for personalised email marketing and landing page creation, and easily create customised reports on your campaigns. This also provides sales with an understanding of the marketing journey and effort to create the lead, fostering sales and marketing alignment. Aligning both teams is a huge challenge but it brings key benefits in strengthening your pipeline. Watch the video below to see more on these powerful marketing tools:



9. Invest in customer success
As with marketing, the CS team must have the tools they need to seamlessly take over the CX from sales ensuring they have all the pre-sale and contract information at their fingertips, enabling them to exceed clients expectations. It is vital to have tools to connect with your customers on their time and be able to offer solutions to their challenges when they are ready, not you. The right CRM will enable you to identify your customers' end goals and provide you with tools to nurture them and reach them with the personalised messaging at the time of need.
10. Successful live chat and chatbot implementation
As your business grows, so too will customer enquiries. According to a study by Zendesk, around 92% of customers feel satisfied when they have the option of a live chat feature, mostly because an 'immediate' response time is desired today - no matter what time. Allow your sales team to interact with website visitors via live chat and chatbots and move them along the buyer's journey, while keeping customer support costs low. All activity will be recorded so that whoever picks up an enquiry has full visibility on what visitors are searching, which can also help your team nurture visitors faster after speaking with them.
11. Use videos with ease
Video is one of the most powerful ways to attract, engage and delight your prospects and clients. But it's also one of the most frustrating to use if you don't have the right CRM to support its use. As video grows in popularity, your CRM should be more than capable of accommodating uploads and sharing, to empower your sales and marketing teams to use it more in their campaigns and processes. In recent years, businesses have transformed video from a one-to-many marketing tactic to an entire strategy, allowing you to attract prospects on one-to-one basis at the different stages of their buying journey. According to HubSpot, video on landing pages can increase conversion rates by over 80%, with 90% of customers saying that videos help them make buying decisions faster. Read our blog on B2B video selling here.
12. Fully customisable sales and marketing analytics and reporting
Bring all your data together in one place and get full visibility into your end-to-end sales process — so you can optimize every step, and deliver exceptional customer experiences. Achieve total visibility into your sales and marketing metrics. HubSpot's sales reporting software gives you deep insights into your pipeline and a quick way to build more accurate forecasts, right out of the box. With HubSpot CRM reporting and sales tracking software, you'll spend less time building reports in spreadsheets and more time accurately answering your business's strategic questions.
Give your teams the tools to focus on selling, instead of laborious admin. Get a top CRM system that can automate tasks, increase capacity and generate revenue faster.