According to HubSpot, the average CRM data decays at a rate of 22.5% every year.
Contacts are at the heart of your growth stack. Without clean data, your marketing and sales results will decline, and your list will get smaller if you don't generate enough new leads to make up for this loss.
So if your CRM is only as good as your data, perhaps it's time for a spring clean? Let's look at the process you can follow to cleanse your database for a successful growth stack.
Why dirty data is limiting your marketing reach
Contact health decreases in your CRM. Efforts to ensure the integrity of your data can greatly enhance response rates and increase ROI. To help yo demonstrate how impactful a clean database can be, here are a few examples of the key metrics you'll want to track, before and after your spring clean:
Inbox rates

Hard bounce rates

Open rates

Click-through rates

Unsubscribe rates
Improved engagement has a direct impact on revenue generation. You simply cannot afford to neglect your contacts database.
Your data cleanse - how often should you do it?
We've established that a data cleanse is a must, but we know this can be a laborious task. So how often should you do it to ensure maximum health with minimum disruption?
First, start by asking: How long is your buying cycle?
Once you know this, you can figure out how often you need to clean your prospect database. Both long and short buying cycles will require you to clean often, but when necessary. If you have a longer buying cycle, you don't want to clean your database too soon, or you could be removing contacts who simply need more lead nurturing. With a shorter buying cycle, holding off on your spring clean could prove more detrimental to the health of your contacts. Here's a diagram HubSpot has provided to give you a rough estimate of how frequently you should be tackling your contact database: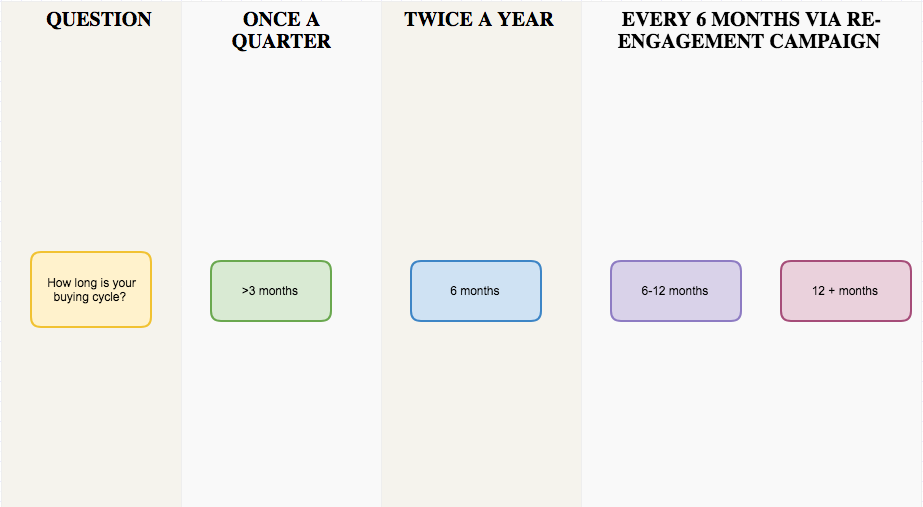 See cleanliness as a growth stack tool
The dirtier your database is, the harder it is to reach your objectives. A database full of unengaged contacts will not help drive success forward or provide return on investment. Once you've completed your spring clean, you can make use of the fantastic HubSpot CRM tools that really drive sales and marketing success:
Smart content and workflows
Two of the most effective tools inside the Growth Stack are the smart content and workflows.
These tools allow you to personalise the buyer's journey to delight your leads into eventually becoming paying customers. This is a good time to mention our contextual marketing strategies for your CRM.
With a clean database, you can rest easy knowing that any personalisation tactics used are 100% reaching the right people. For example, using a landing page to target CEOs with smart content based on their industry and company name.
Better sales leads
When your marketing is highly targeted with personalisation tools, the leads pushed further down the funnel are much more valuable to your sales team. When sales is only getting the valid leads, this process is event more efficient and leads to a much faster turnaround with a higher conversion rate.
Think of how your deal pipeline would look once you've cleansed your database. It would be filled only by prospects who are ready to be sold to.
3 best practices to keep your database healthy
Once you have a cleansed database, you'll want to keep the relevant contacts organised for seamless segmentation. Here are three of our top tips for organising your database. With this regular maintenance, you will see how your data performs on deliveries, open rates, click rates and conversion rates, and in turn, your ROI.
1. Monthly clean-ups
As you'll be regularly cleaning your database, monthly clean-ups shouldn't take long at all. Check that all of your contact properties are up to date, your lists are still relevant, and that there aren't any mistakes falling through the cracks, If you need help with your HubSpot database management or GDPR advise, contact our team for support.
2. Lead scoring
Apply a lead scoring strategy to your contacts to give your marketing and sales teams an accurate view of which leads are at each stage of the buyer's journey. Set them by leads, marketing-qualified leads (MQLs), sales-qualified leads (SQLs) etc. to assess the health at each stage. This also guides your marketing and sales team on how many leads they have to push further down the funnel with their own activities. Download our lead scoring checklist to enhance your current sales & marketing strategy.
3. Clean marketing automation data
Having marketing automation in place is allows you to automatically assign scores to contacts and organise them into different lists based on a variety of characteristics. When you use a tool like HubSpot, it also detects things like duplicate contacts and multiple form submissions, removing the manual legwork your under-resourced team loathes.
Don't let database decay and reduce your marketing efforts. HubSpot's all-in-one marketing software provides all the tools you need for a healthy prospect ecosystem, drive more traffic to your website, and turn those database contacts into customers.
Looking for help with your data management?
Want to learn more how to cleanse your CRM database and develop better sales & marketing pipeline? Book a complimentary consultation with our ProsperoHub experts or get a free personalised HubSpot demo for your organisation.