"It's not about the individual functionality; it's about the integrated capability." - Neil Ritchie, Co-CEO of ProsperoHub.
HubSpot's Marketing Hub provides a multitude of features and tools to enable high-level marketing to attract, engage, and delight your target audience. However, it is the in-depth data analytics and engagement reports – enabling your marketing, sales, and service teams to work collaboratively with ease – that truly makes HubSpot stand out from other CRM databases.
As a Diamond CRM HubSpot Solutions Partner and digital business agency, we can help you take this one step further by implementing clear strategies and campaigns designed to fully utilise these HubSpot tools to achieve, and exceed, your business goals.

Every tool and feature in HubSpot complements and enhances the use of another, and the all-in-one nature of the platform brings functionality and simplicity together for the entire business. Read on for nine essential elements of HubSpot and some of their many benefits:
1. Automated CRM database
The core of everything your marketing and sales team do involves HubSpot's automated customer relationship management (CRM) database. HubSpot automatically updates customer profiles to track and measure each individual's engagement and customer journey and moves them along their customer lifecycle when appropriate, giving your sales team a notification when they are ready to be approached.

This allows for a much more collaborative and holistic approach between your sales and marketing team, where everyone has access to the same sources of information and updates, and no contacts should slip through the cracks or be sent the wrong information.

This function also automatically enrols contacts into relevant marketing workflows when they are in the correct stages of their customer lifecycle or fit certain criteria because of their recorded industry, job title, or location. The detailed insights into engagement and prior communications with your business allows your team to make informed and data-driven decisions on the best way to communicate with each contact.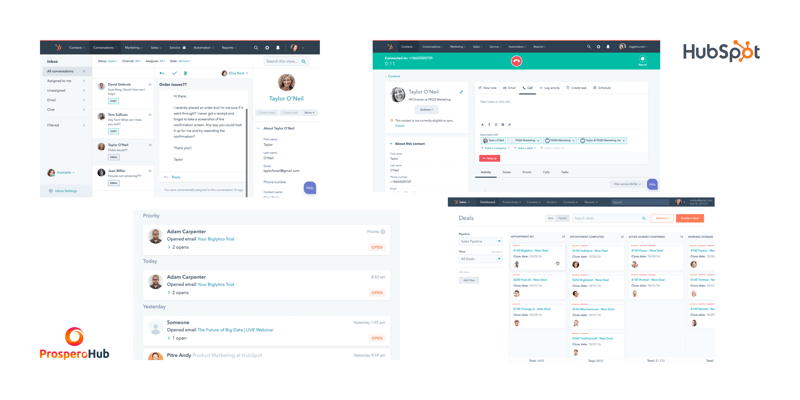 2. List segmentation
HubSpot allows you to group contacts in your CRM database with similar qualities according to their customer profiles. These lists often become your buyer personas of ideal customers, or you can group contacts into lists when they have taken a similar action, such as subscribed to a newsletter or registered for a webinar. Grouping contacts into lists allows your marketing team to send tailored messaging to these individuals, using wording and content that is of most relevance and value to them at that time.

You can create active lists, which automatically update with new contacts when they reach certain criteria - and in turn these contacts will be automatically enrolled into relevant workflows with tailored content sent to them on an ongoing basis. Alternatively, you can create static lists, which are a snapshot of a specific group of people from a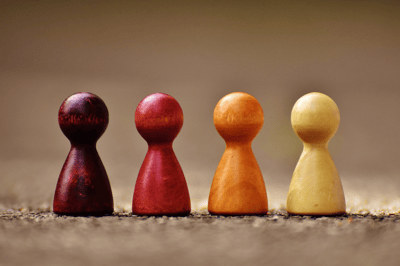 specific point in time, such as attendees of an event that you want to send specific follow-up content to.

At ProsperoHub, we can help you take this one step further and target your key customers in the most strategic way. We conduct buyer persona workshops with our clients in which we help define clear, separate buyer personas to target their ideal customer base where possible, or alternatively we can advise that we proceed with industry-specific content if this is the most tactical approach.
3. Landing pages, web pages, and blogs
In Hubspot, you can create SEO-optimised :
Web pages to inform your prospects of who you are and what you offer;
Blogs to answer questions and provide information on everything that your ideal customer might be searching, building trust and aligning with HubSpot's inbound methodology;
Effective landing pages to increase your conversion rate and actively encourage your website visitors to engage with your business and sign up to hear more from you. This is key to beginning your relationships with prospects in an inbound way, and adding them to your CRM database.
You can also add calls to action (CTAs) to these pages to direct your visitor where you think would be most valuable or impactful to go next.
HubSpot enables an in-depth analysis of engagement with every page of your website, tracking page views, bounce rate, click rate, average time spent on a page, conversion rates, and more, so that your marketing team can gain a thorough understanding of what content is of most interest to visitors and where resources should be focused.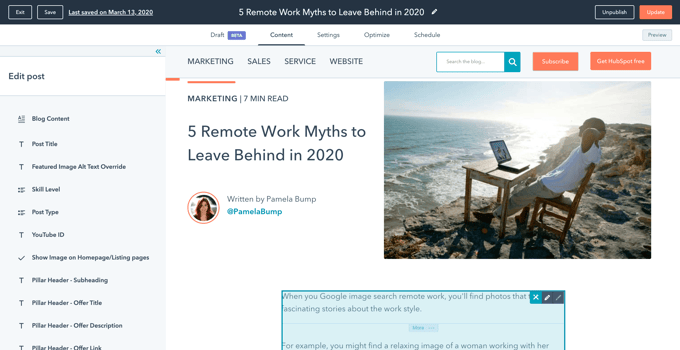 4. Automated workflows
Create workflows to run e-mail and marketing campaigns that respond and adapt in real-time and automatically log and display engagement performance analytics. You can set up your workflows to score your leads and rotate them to sales and provide internal notifications when a contact takes a note-worthy action.

Choose from a wide range of enrolment criteria to ensure that you are contacting only the correct people and set goal criteria for HubSpot to automatically remove leads once they are 'warm' enough to be contacted by your sales team. Run multiple campaigns in the background and remove the need for manual intervention to free up your time and deliver results in your absence.

You can also further tailor content to your readers with 'if/then' branches in workflows – meaning that depending on the content the recipient engages with, they can be sent down specific content streams to provide them with more information they might be interested in – enhancing your marketing and communication capabilities.
5. E-mail analytics
HubSpot provides analytics reports and dashboards to make it simple to track your audience's engagement with your e-mails. Easily see an overview of e-mail performance to understand which topics are of most interest to your prospects, and the times and days that get the most successful engagement.
By clicking on an individual e-mail in your database, you can view a multitude of engagement analytics for that particular e-mail, including the successful delivery rate, the open rate, the click and click-through rate, a heatmap of which links have been clicked, the ratios of whether your contacts read, skimmed, or glanced the e-mail, and many more. You can also easily view which workflows an e-mail is part of to keep track of the full context of the e-mail is part of.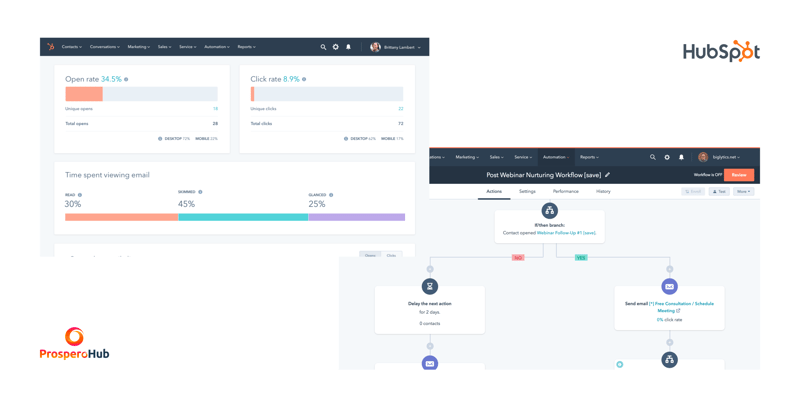 6.

A/B testing
With the A/B testing tool, you can easily test and measure the engagement performance of different marketing e-mail content, layouts, language styles and tones, visual elements, the number of links included, the levels of personalisation such as in CTAs, subject lines, smart content, and more.

This, along with the thorough data analysis provided on HubSpot, equips you with detailed market research to build an understanding of what works best for your audience, potentially including what works best for different specified groups or buyer personas within your audience, giving you the opportunity to enhance and maximise the potential of your marketing outreach over time with better tailored content.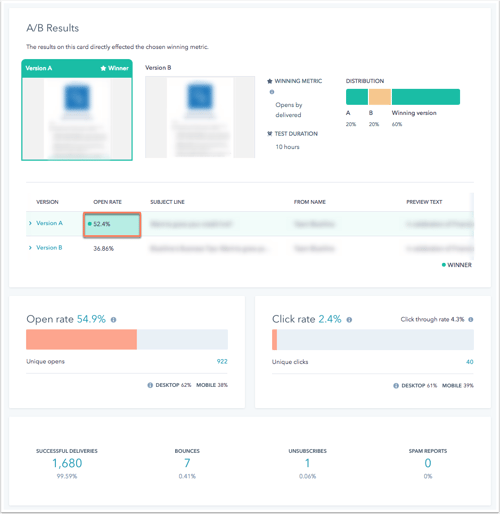 7. Social media integration and management
HubSpot integrates with a range of social media platforms allowing users to connect multiple accounts and making it simple to draft, schedule, publish, and track engagement on posts in one place. This is another useful element of the 'all-in-one' nature of the platform, where marketers can easily keep an overview of the performance of all areas of their marketing campaigns and compare and contrast data analytics and market research – understanding in real-time what people are engaging with and gaining insight into the most successful times and days to post.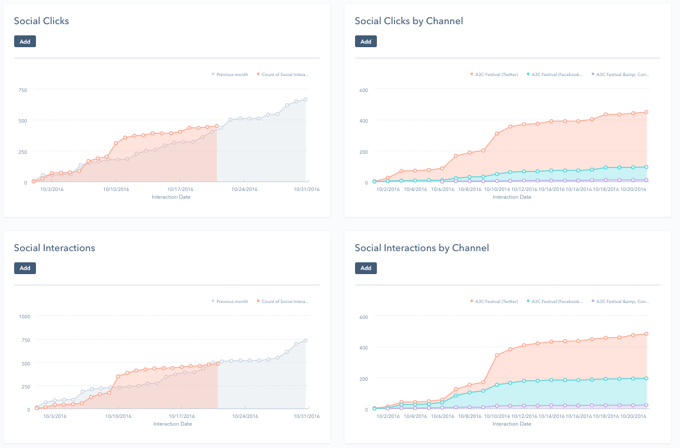 8. Paid ad tracking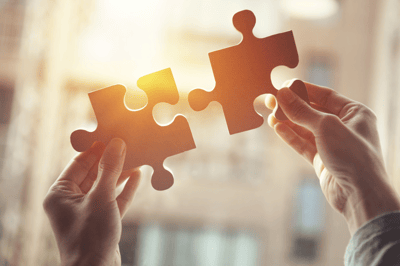 In terms of paid ad tracking, HubSpot's ad integration helps marketers to measure and analyse the performance of their Google, Facebook, and LinkedIn ads. Whilst it does not give you full visibility into all performance metrics, it does enable you to link interactions back to your HubSpot CRM contact database and understand what your audience engage with in real-time.
9. Dashboards
Measure the performance of all aspects of your marketing campaigns in one place and become a data-driven marketer. HubSpot provides analytics reports and dashboards to make it simple to track your audience's engagement with your marketing content. You can also track the complete customer lifecycle, highlight key trends in your reports over time, access contacts in each stage of your workflows, and understand the quantity and quality of your website traffic on a page-by-page basis.
Dashboards are a helpful way to enable your marketing and sales teams to work in a more holistic, collaborative way using one set of data statistics and reports to inform decisions and measure results.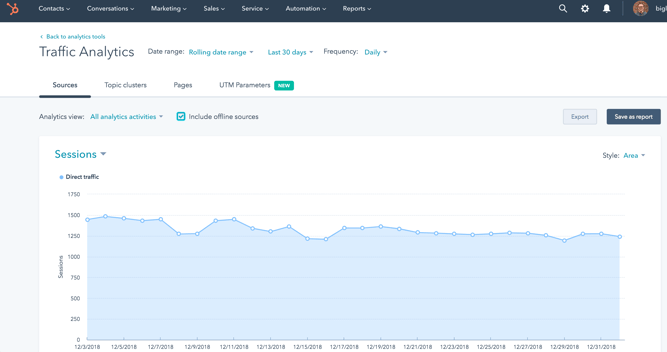 Interested in how HubSpot could benefit your business?